Willamette Speedway
Race Track

in Lebanon, Oregon, USA
Willamette Speedway Dirt Track Logo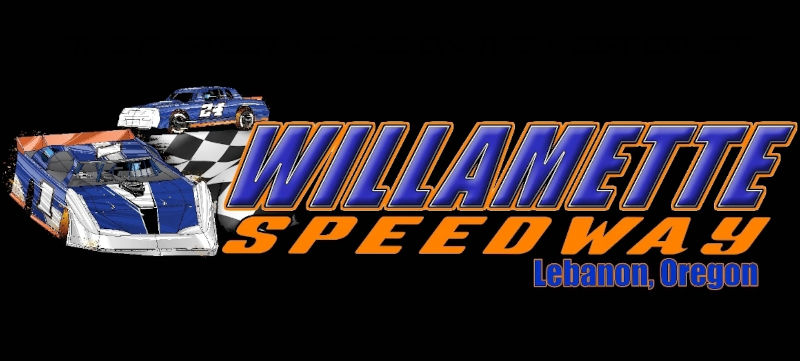 Willamette Speedway races Super Late Models, IMCA Modifieds, IMCA Sportmods, Super Sports, Sportsman, Street Stocks, IMCA Stock Cars, and Hornets.
Location
Contacts
Schedule
News
Videos
Nearby Dirt Tracks
Dirt Track Organizations
dirt track racing

advertisement

advertisement
Willamette Speedway

Dirt Track Location
36606 Airport Dr




Lebanon

,

Oregon

,

97355

USA

lat:

44.524867

, lng:

-122.932752

Surface: 1/3 mile clay oval
dirt track racing

advertisement

advertisement
dirt track racing

advertisement

advertisement
Willamette Speedway

Dirt Track Racing Schedule

We currently have no race dirt track racing schedule for Willamette Speedway. Please check back later.
dirt track racing

advertisement

advertisement
Willamette Speedway

Dirt Track News
NARC NEWSLINE - JANUARY 19, 2022

NARC NEWSLINE - January 19, 2023 - By Jim Allen ... There are so many things going on in motorsports that missing a single day on social media can put you in a time warp. Everything seems to happen so fast; some of it good and some of it not so good. Among the headlines during the past couple of months were life-threatening RV crashes, million-dollar to win sprint car races, a shootout in Tulsa that resembled a WWE event, high-limit races, and even some proverbial head-butting between some of the big names in sprint car racing. There is a ton going on locally also, so buckle up and take notes: STATE OF THE UNION: I attended a pair of promoter's workshops this offseason. The first was the WARPA meeting in Portland in mid-November, followed by the December RPM Promoters Workshop in Reno. The way I heard it and read the room the messages were completely different. In the Pacific Northwest, where most of the tracks lost the first third of the schedule to an ungodly number of rainouts, promoters were basically doing the happy dance. Attendance was up and growing car counts complimented the great racing. By comparison, the promoters in Portland seemed a lot less stressed than their California counterparts in Reno. While sprint car racing was pretty darn entertaining in '22, every promoter in California is actively digging to entice an additional 500-600 fans into their grandstands each week. It's the difference between good and great, but with the highest operating costs in the nation, California racetrack promoters are having to work extremely hard just to make ends meet. All are doing their best to support racers, but they also have to buy groceries - and that's a fine line to walk. Either way, everybody seems very optimistic regarding the future of 410 sprint car racing on the left coast. HOOSIER TIRES: Most in dirt track racing assumed that a pop of a champagne cork on New Year's was going to signal the end to our tire problems of '22. Better slam on the brakes on those impure thoughts because Hoosier and other tire manufacturers took to the podium to spell out the situation at the workshops. When pressed on how much of an improvement we could expect to experience (enjoy) this year, Hoosier was hard-pressed to answer just five percent. Trust me when I say this, but they are not proud of that figure, but are diligently working on improving the crisis. By the way, the sheer demand for racing tires nationally (all classes) is off the charts. This cuts both ways. It shows that motorsports and grass roots racing is growing - but it is also complicating the problem by driving demand above what can be supplied. Like most other businesses in the post-Covid world, Hoosier needs people who actually want to work, and they need an influx of raw materials. They have been forced to make dramatic increases in labor rates to recruit talent, and it is working … slowly. Speaking of raw materials, just three years ago it cost about $2000 to get an entire shipping container of raw rubber from Indonesia to Indiana. For your rubber fact of the week, four countries in Southeast Asia grow 70% of the world's rubber supply and there is a shortage which was caused in 2020 when replacement trees were not planted. Today, that exact same container of raw rubber can be yours for right around $32,000. Yes, that is a real number! You can't make that stuff up! As a result, there are more price increases coming in the near future and the ticket price of a Hoosier Right Rear racing tire is fast approaching $400 a pop. For all of the politicians who say inflation is running at six-to-eight percent, I call B.S. Hoosier also announced improvements to their manufacturing process, by reducing the number of tire SKU's from over 1300 to less than 400. Less SKU's means they can build more tires because they don't need to constantly change tire molds and tooling. In hindsight, it's seeming like something that needed to happen years ago, especially in stock car racing where some associations allow 20+ different tire configurations/compounds. Another improvement was announced a couple of weeks ago stating that dirt track racing is quickly evolving to a new national Hoosier tire. It utilizes a symmetrical tread pattern that allows sprint car teams to rotate tires to extend the life cycle. This tire will be run by anybody running a sprint car on dirt from the Pacific to the Atlantic. The new D15A rolls out in February and will replace all other Hoosier right rears in existence once they fill the pipeline. So where is all this leading? To be honest with you, I'm not really sure. Is there a possibility of events being cancelled? It could happen! Will things get better? Yes, but it will take time. All I really do know is that one of the toughest jobs in motorsports right now is your local Hoosier tire distributor rep. Nobody ever calls to find out if they're having a wonderful day. And to close out this topic, here is a little flashback to 1995. At the time, the NARC sprint cars were running a McCreary MC-3 right rear club tire. The cost … wait for it … a whopping $135 each. Even at that price, most car owners thought the price was outlandish. You can imagine what they are thinking now. We need a time machine. 2023 NARC SCHEDULE: Yes, it's aggressive, featuring twenty-four races at 15 different tracks. Among those shows are new additions at Antioch Speedway (April 29th) and Brian Crockett's Douglas County Dirtrack in Roseburg, Oregon. This is the same Douglas County track that was best known for stock cars on a paved 3/8 mile. I guess if you can "pave" a dirt track, you can "dirt" a paved track. That's exactly what Crockett managed to pull off. Test runs have been impressive and now it's the second stop on the Fastest Four Days in Motorsports. That blast of racing will be a lead up to an exciting stretch of seven NARC events in ten days. It looks something like this: Thursday, June 15th - Southern Oregon Speedway (Central Point, OR) - Thursday Night Thunder Friday, June 16th - Douglas County Dirtrack (Roseburg, OR) - Friday Night Frenzy Saturday, June 17th - Willamette Speedway (Lebanon, OR) - Sprint Car Invasion Sunday, June 18th - Grays Harbor Raceway (Elma, WA) - Timber Cup Monday, June 19th - Sleep in, golf, and head to Skagit! Tuesday, June 20th - (NON-NARC POINTS RACE) Skagit Speedway - 410 Open Show Wednesday, June 21st - Participate in a variety of fan-friendly, non-racing activities at Skagit. Alcohol will probably be involved. Thursday-Saturday, June 22-24th - Skagit Speedway - $50,000 to win Super Dirt Cup (Burlington, WA) There will be a boatload of money and some serious egos to feed during those ten days and I promise the adventure is worth the trip. Hopefully, if everything works out as planned and California crowds go from good to great this season, the Speedweek concept can return locally to the 2024 schedule.. Another NARC schedule change pertains to the Howard Kaeding Classic at Ocean Speedway. It was originally rolled out as a two-day 410 show. It's back to Taco Bravo 360's on Friday and NARC 410's on Saturday. NARC NOTES: Both nights of the May 12-13th Peter Murphy Classic will take place at Keller Auto Speedway. In the past, the event was split between the Hanford track and Thunderbowl Raceway, with the tracks swapping the $11,000 to win Saturday headliner. With Peter Murphy firmly entrenched as the promoter at Keller, it only makes sense for the same track doubleheader. It will allow race fans to settle in and enjoy the entire weekend in one campground. … Tulare will now showcase the Dennis Roth Classic as a two-day show on April 14-15th, with the winner taking home $8300 on Saturday night. Look for a possible announcement in the near future about a substantial bump to that amount. … Fire Suppression Systems are mandatory on all left coast tracks by May 1st. This includes 360 and 410's. Rock screens are now mandatory beginning at the season opener. … Dish wings are no longer allowed on the West Coast. … …Thank you to former NARC HammerDown! Rookie of the year Jim Taves for sponsoring our second heat race in 2023. The winner of the Kimo's Tropical Car Wash heat will pocket 100 bucks. … Calistoga Speedway has a heartbeat! All that needs to happen is for the locals to vote on a bond measure in March which will fund the maintenance of the facility. Tommy Hunt is optimistic. Fingers crossed. … 2023 rule books and membership forms can be downloaded at NARC410.com. NARC DRIVER NOTES: Bud Kaeding will be strapping into Mike Martin's champ car this season for a handful of races in the Midwest. It's been a decade since Bud wheeled the big cars. … Congratulations to Kalib Henry who will living the dream on more of a national stage this year. The up and comer landed a ride with Shane Liebig to run for a title at Huset Speedway in North Dakota and other big profile events including the Knoxville Nationals. Yes, California lost another great young driver, but we will still see him at some big events on occasion in the McColloch Motorsports sprint car. … Congrats to Justin Sanders and Joel Myers Jr. for representing the US with some great "down under" victories. … As per Alex Nieten's NARC Pit Personality story, Justyn Cox is the new shoe in the Bates-Hamilton Racing #42X. Look for this team to make a victory lane appearance at a track near you. … Here is something new out of the Tarlton Motorsports camp. The team is NOT planning to run a permanent driver during the 2023 season. Crew chief Drew Warner stated the team will utilize a "best driver available" approach. They will be chasing the NARC car owner championship. OTHER STUFF: Watched a WWE event and a midget race broke out. Yup, that's the best way to describe the Tulsa Shootout where more than 100 flips were matched with an equal number of punches. … It sure is good for our California egos by how well our drivers collectively performed at the Chili Bowl. At least there is some positive to come out of this state. … There is a new scoring tower/announcers booth/business center being constructed at Skagit Speedway. The original 1970-vintage tower was torn down as the improvements continue at the facility. … It's hard not to get excited about the first ever $1 million to win sprint car show at Eldora. Fans went nuts on social media when they heard the news. Unfortunately, many thought this payout was going to happen with the standard $50 World of Outlaw ticket price. You can't pay that much money without securing a sizeable increase at the front gate. It's business economics 101. Tickets are expected to be in the $150+ range. … Glad to see that the World of Outlaws and Kyle Larson's High Limit Series worked out their differences. By the way, the High Limit race at Tulare was moved to March 21st. … Our thoughts and prayers go out to Bill Andreetta of Sunnyvalley Smoked Meats, our trophy dash sponsor. Bill was recently diagnosed with cancer and is undergoing treatment in Arizona. … There will be plenty of opportunities to race 410 sprint cars on the West Coast. In addition to our schedule, Keller Auto Speedway has three 410 stand-alone shows - with a 360 twist! Peter Murphy has been actively envisioning some unique twist and turns for these 20-car main events, where 360's will be given the opportunity to start up front. It will feature a standard NARC payoff. I don't have all of the details yet, but a press release will roll out soon. … And finally … It's scary how one's life can change in a split-second. Our thoughts and prayers are still with the Bloomfield family. Their RV was crushed by an intoxicated driver as they were returning home from a 360 race in Merced before Thanksgiving. Unfortunately, Shannon Bloomfield took the full force of accident, resulting in an extensive list of broken bones and other injuries that seem impossible to comprehend. She is lucky to be alive. Dustin's heartfelt posts on Facebook during the ordeal were enough to make grown men cry. Shannon faces a substantial recovery process - one I'm sure she will conquer - and it will be an honor to see her at a NARC event in the near future. Amen! … We've only got a couple of months until the 2023 Mini-Gold Cup NARC season opener in Chico. In the meantime, you can find everything NARC on Facebook, Instagram, Twitter, YouTube and TikTok and NARC410.com. Don't miss a single day! Coming to you live from Auburn, CA. See ya!

GOING OUT ON TOP?: CROFT MULLING FUTURE AFTER CAREER-BEST NARC CAMPAIGN

(12/10/2022 - Alex Nieten) Sacramento, CA… Heading into 2022, Willie Croft planned for this to be his last year as a full-time competitor to cap an excellent career, but after a personal-best finish of second in NARC 410 Sprint Car points, he isn't quite sure if he's ready to hang up the helmet. Long before he became one of the most familiar names in California, Croft's passion for sprint car racing began as a young fan in the stands. "When I grew up, my uncle took us to the sprint car races, his kids and myself," Croft said. "Once they moved out of town, I would spend my summers down there, and he would take me to Baylands and some San Jose stuff. Before he moved out of the Sacramento area we would go to Placerville on a weekly basis. That's kind of how I got involved in racing. I knew from the very beginning this is what I wanted to do." As he aged into his later teenage years, Croft slightly faded away from the sport as he discovered other interests as many high schoolers do. However, a chance encounter at one of his friend's garages reignited his fire for racing. "One of my friends, one day we were at his house, and I was walking by the garage that was open and there was a sprint car in there," Croft reflected. "I was like, 'Where'd this come from?' My buddy Jason was like, 'My dad is helping this guy, Rick Hirst.' It wasn't my father-in-law, Rick Hirst. There's actually another Rick Hirst who raced. "So, one thing led to another and I met this guy, Rick," Croft continued. "I found myself, whenever went over to Jason's, working on this car rather than hanging out. We were really heavy into skateboarding at that time, so instead of doing any type of skateboarding or going downtown to skate for the weekend, I was helping Rick with his car and then eventually going to the races with them." After his introduction to the hands-on, mechanical side of the sport, Croft would go on to meet a handful of personal influences as he navigated the early parts of his career as a crew member and, eventually, the beginning of his time behind the wheel. "I met Mike Wasina from there and was helping Wasina when Rick wasn't racing," Croft said. "I ended up actually buying my first racecar from Mike Wasina and an engine and open trailer. I met Roger Crockett and Brian Crockett, who let me actually keep my car at their house and helped mentor me, how to maintenance a car and what not. "Meeting Rod Tiner, I learned a lot more from Rod and going racing with him and his brother, Randy Tiner, at certain races," Croft continued. "I was learning and talking to Rod on the way home, asking, 'Why'd you do this or why'd you do that?' 'One of my best friends is Paul Silva," Croft added. "Once Paul started, I helped him quite a bit in the very beginning. I still do when I don't race, whether it's Knoxville Nationals or whatever it may be. Learning from Paul I learned how to be organized, how to be clean, how to have everything sorted. He does everything 100%, in my mind, correct. It kind of taught me a lot, opened my eyes up and helped me with my own program on how to be 100% ready." Croft has maintained that mindset of being fully prepared through the duration of his more than two decades racing sprint cars. The approach has helped him remain one of the steadiest forces of the California circuit year in and year out and construct quite the resumé. In 2004 Croft scored his first NARC victory, topping the prestigious Mini Gold Cup at Silver Dollar Speedway. Among his dozens of overall sprint car wins are also a Faria Memorial (2016), Dave Bradway Jr. Memorial (2018), and three Trophy Cup features. Croft added his name to the list of Trophy Cup champions in 2014. Throughout his career, Croft primarily wheeled his familiar, personally owned No. 29, but his talents also landed him opportunities driving for famed car owners such as Clyde Lamar and Kevin Rudeen. Croft entered 2022 aiming to make one last run at a NARC title aboard the No. 29 after posting a best effort of third on two occasions in 2007 and 2013. Early on, Croft appeared poised to battle eventual champion, Dominic Scelzi, down to the final race. He posted seven top-fives in the first 10 races including a victory at Willamette Speedway in Oregon. Bad luck plagued the second half of his season, but he still held on to the runner-up spot in the final standings. A challenge Croft battled throughout the year is a rotation of crew members. Croft serves as his own crew chief and maintains his car throughout the week, but during the year he didn't have a set team traveling with him to each race. While the lack of a consistent crew created some difficulties in race day routine, Croft found himself feeling appreciative of the fact that a variety of capable hands were willing to help when needed. The experience reminded him of his own path. "It's pretty rewarding," Croft said. "I always think back to myself as a crew guy when I first came around the sport. I ate and breathed it. Sprint car racing is all I wanted to be around. I wanted to learn anything and everything I could learn, and I had really good people to learn from, the likes of Mike Wasina, Rod Tiner, and Brian Crockett. "That was me looking up to them, and, you know, it's so weird, I don't look at some of these younger people looking up to me in that way but maybe they do," Croft continued. "It's pretty gratifying to have guys that want to come help me, that want to go win races and work in my tough environment that I try to keep. I try to keep a standard of having everything organized and clean. It's that part of me that I can't do anything without knowing I'm 100 percent prepared." Croft's efforts as a crew chief adjusting to a different team through the season didn't go unnoticed. At the NARC Championship Awards Banquet, Croft was presented the Billy Albini Mechanic of the Year. The recognition filled Croft with emotion and provided one of the top moments of his career. "I still think about it every day," Croft said. "I think about that moment and how much that trophy really means to me. Billy Albini was one of the best. I feel fortunate to have been able to talk to him even just in passing… I was really caught off guard. I still get a little emotional thinking about it. It's just a really, really cool award to have. The trophy goes back, but I still have the ring. I still have the memory of being on it that's going to stick with me for a lifetime." Now, Croft sits in somewhat of a limbo as 2023 looms. A variety of factors are in play that he must consider before deciding on what, if any, racing plans he'll make. Croft owns a business, Amerikote Powdercoating, which occupies much of his time. This year he sadly lost one of his longtime supporters when Dave Wasney with Holey Smokes BBQ passed away. Croft also continues to have a major role in his son, Cole's, blossoming racing career in karts. Cole has the same passion for the sport his father showed at a young age, and Willie puts plenty of time into working with him as he makes his own way towards sprint cars. "It's a little hectic at times. I'm not going to lie," Croft said of balancing his son's racing. "I'm putting myself in a position where I'm trying to do anything and everything I can do to give him the best equipment, the best car and setup that I can give him, but I don't know anything about them (the karts). They're not like a sprint car. They're opposite of how you set a sprint car up." Though Croft remains uncertain of his racing future, he is confident in one area. If he does decide to continue competing, the 50-year-old plans to race often with the NARC 410 Sprint Cars and potentially try to challenge for a championship. "I wish I could just say I'm going to run the NARC schedule again because I had a lot of fun, and there's a lot of good people in the sport that run that series," Croft explained. "There's a lot of camaraderie, and that's what I want to do. If I'm going to race, I want to race with the people I like racing with and the people that look out for us as a series with Jim (Allen) and Brent (Kaeding). I feel like that's where my heart is. If I can make it happen, that's awesome but I just don't know." It won't be long before the NARC season opener in March is around the corner and Croft is faced with making his decision. Everyone who has watched sprint cars in California over the past two decades knows this local legend has nothing more to prove, but how does the man himself feel about his career? Will he be satisfied? Overall, he's conflicted. Like any racer, there is always one more event he'd like to check off the bucket list. However, if he does choose retirement, Croft feels complete and happy with the career he's put together and the invaluable relationships he's formed along the way. "Thinking back to when I was asked, 'If you race sprint cars, what level do you want to compete at?'" Croft recalled. "I said, 'I just want to win a Golden State Challenge (NARC) race.' So, to have done that, winning Trophy Cup, Mini Gold Cup, some of the other races, it's pretty satisfying. But, then I think about it and I want to win an Outlaw race. I think that's a top prize in sprint car racing is winning an Outlaw show. "I don't know. I really don't know," Croft added on if he's content with his career. "I guess I'll know 10 years from now or something like that when I sit back and think about. It's tough. Are you ever satisfied? I'm probably not. I probably would want to win some of these other races before I was completely satisfied. "You know what, though? It is what it is," Croft continued. "I've had a lot of fun. I've met a lot of good people. I still want to be around it. I will be around once my son does get into it. So, am I satisfied? Yes, in that aspect. I am satisfied to be able to live my dream and meet great people, meet my wife, but you always want to do better and you always want to win more, and you always want to win the bigger races."

NARC 2023 SCHEDULE: CALIFORNIA STAPLES, HUGE NORTHWEST SWING HIGHLIGHT CAMPAIGN

(12/5/2022) Sacramento, CA… The NARC 410 Sprint Cars are set for another busy campaign in 2023 with the unveiling of a 24-race schedule for the West Coast's best drivers and teams as the series enters its 63rd season of racing. For the second straight year NARC will visit all three states that comprise the West Coast at tracks as far south as Bakersfield and all the way up north nearly to the Canadian border. Overall, 13 different facilities are on the calendar. Teams will compete for more than $800,000 in prize money throughout the entirety of the schedule, plus another $50,000 in product and cash awards up for grabs. Shares of a lucrative championship points fund will also be on the line. March-ing Into Chico The season opener will see the revitalization of a historic, fan-favorite race. On March 18th the series kicks off the 2023 campaign with the return of Mini Gold Cup at Chico's Silver Dollar Speedway. Originally starting in 1987, the Mini Gold Cup has been a spring staple in California but took a brief hiatus after the 2019 edition. Throughout its history, the event has alternated between NARC and World of Outlaws sanctioning. With the 2023 edition being a NARC event, it again gives locals a shot at Mini Gold Cup glory and placing their name alongside some legends of sprint car racing. The Classics The state of California has established a handful of "Classic" races that have become fan-favorites, and per usual some of those coveted events have found a home on the NARC schedule. The first of five Classics on the calendar is on the second weekend of April and will be the third edition of the Anthony Simone Classic at Keller Auto Speedway in Hanford on April 8th. The night honors the versatile driver known as "Mr. Excitement" and offers a $10,000 payday to the winner. The very next weekend will be another lucrative event as Tulare's Thunderbowl Raceway will host the second Dennis Roth Classic. As a nod to Roth's iconic car, the feature winner will again be awarded $8,300. The Roth Classic has grown by a day for 2023 and will showcase two nights of racing on April 14th and 15th with the winner of the latter taking home the big check. The wildly popular Peter Murphy Classic is set for May 12th and 13th and will take place at the site of the two aforementioned Classics. Night one will be at Thunderbowl Raceway with Keller Auto Speedway taking center stage for the $11,000 to win finale. Like last year, NARC will be joined by the Sprint Car Challenge Tour both nights. Another one of the most anticipated races of the campaign can be found in July as the Howard Kaeding Classic continues as a summertime staple. Unlike recent years, the event will now feature two nights of the NARC 410 Sprint Cars at Ocean Speedway as opposed to 410s only partaking on the final night. "The HK" is slated for July 14th and 15th. On August 26th the series heads to Stockton Dirt Track for the Champions Classic. After a cancellation this year due to the tire shortage, teams will be eager for its return and to fight for a $6,000 payday by visiting victory lane. A Busy Road To Dirt Cup For the second straight year NARC will hit the Road to Dirt Cup, but this year's edition will include a few more stops and double as the Fastest Four Days in Motorsports. In lieu of making a pair of trips to the Pacific Northwest like in 2022, the series will make one extended journey to make logistics easier on the teams. The four straight nights of action begins on Thursday, June 15th at Central Point, Oregon's Southern Oregon Speedway. The next night it's up to Douglas County Dirt Track in Roseburg, Oregon, a track that was converted from pavement to dirt over the off-season under the new promotional leadership of Roseburg Racing Promotions. Night three is a visit to Lebanon, Oregon's Willamette Speedway, where Justin Sanders set a new track record when NARC invaded last year. And the Road to Dirt Cup meets an end at Grays Harbor Raceway in Elma, Washington on June 18th. Overall, the trip promises to provide four fantastic nights of racing at four different facilities and will feature a special bonus to any driver that can sweep all four events. Dirt Cup After a wildly successful 2022 Jim Raper Memorial Super Dirt Cup, NARC will again support the West Coast crown jewel as it enters its second year of a return to 410 sprint cars at Burlington, Washington's Skagit Speedway. The Dirt Cup will again feature a trio of nights (June 22nd - 24th) with the final night's winner taking home a whopping $50,000. Last year the race attracted more than 40 competitors as promoters Peter Murphy and Kevin Rudeen restored a ton of prestige to one of the most historic events on the left-coast. *On Tuesday, June 20th there will be a Dirt Cup Tune-Up race at Skagit, but it will not be a NARC event. Making History A pair of historic races with winners lists that read like a California Hall of Fame will again be a part of the NARC campaign with many drivers hungry to add their names in one of those coveted slots. The 32nd Annual Dave Bradway Jr. Memorial Race will occur on June 3rd at the scenic Placerville Speedway, marking the third straight year the El Dorado County track has hosted one of the most prestigious races in California. With lap money and other awards, this show features one of the largest one-day purses of the year. The season finale will see a historical race enter another decade of existence as Stockton Dirt Track hosts the 40th Tribute to Gary Patterson on November 4th. And More A few other racetracks and events help complete the 2023 schedule. Petaluma Speedway has a pair of dates with the Salute to First Responders set for May 20th and the Salute to Baylands Raceway Park scheduled for July 8th. The second race of the season will be the fourth annual Asparagus Cup on April 1st at Stockton Dirt Track with the SCCT joining the card. Silver Dollar Speedway's second and final NARC race of 2023 will be on April 29th as the series will again partake in the David Tarter Memorial. The fourth edition of the Morrie Williams Memorial will be run on September 30th at Keller Auto Speedway. The unique event will again showcase a twin-20 lap features to conclude the evening. NARC will make its lone trip to The Dirt Track at Kern County Raceway Park on October 28th for the Halloween Spectacular. NARC 410 Sprint Cars 2023 Complete Schedule March 18: Silver Dollar Speedway (Chico, CA) - Mini Gold Cup April 1: The Stockton Dirt Track (Stockton, CA) - Fourth Annual Asparagus Cup w/SCCT April 8: Keller Auto Speedway (Hanford, CA) - Anthony Simone Classic ($10,000 to win) April 14: Thunderbowl Raceway (Tulare, CA) - Dennis Roth Classic April 15: Thunderbowl Raceway (Tulare, CA) - Dennis Roth Classic ($8,300 to win) April 29: Silver Dollar Speedway (Chico, CA) - David Tarter Memorial May 6: RAIN DATE May 12: Thunderbowl Raceway (Tulare, CA) - Peter Murphy Classic w/SCCT May 13: Keller Auto Speedway (Hanford, CA) - Peter Murphy Classic ($11,000 to win) w/SCCT May 20: Petaluma Speedway (Petaluma, CA) - Salute to First Responders June 3: Placerville Speedway (Placerville, CA) - 32nd Annual Dave Bradway Jr. Memorial June 15: Southern Oregon Speedway (Central Point, OR) - Fastest Four Days in Motorsports/Road to Dirt Cup June 16: Douglas County Dirt Track (Roseburg, OR) - Fastest Four Days in Motorsports/Road to Dirt Cup June 17: Willamette Speedway (Lebanon, OR) - Fastest Four Days in Motorsports/Road to Dirt Cup June 18: Grays Harbor Raceway (Elma, WA) - Fastest Four Days in Motorsports/Road to Dirt Cup June 22: Skagit Speedway (Burlington, WA) - Super Dirt Cup June 23: Skagit Speedway (Burlington, WA) - Super Dirt Cup June 24: Skagit Speedway (Burlington, WA) - Super Dirt Cup ($50,000 to win) July 8: Petaluma Speedway (Petaluma, CA) - Salute to Baylands Raceway Park July 14: Ocean Speedway (Watsonville, CA) - Night One of the 13th Annual Howard Kaeding Classic July 15: Ocean Speedway (Watsonville, CA) - Night Two of the 13th Annual Howard Kaeding Classic July 29: OPEN August 26: The Stockton Dirt Track (Stockton, CA) - Champions Classic ($6,000 to win) September 30: Keller Auto Speedway (Hanford, CA) - Morrie Williams Memorial Twin-20s w/SCCT October 28: The Dirt Track at KCRP (Bakersfield, CA) - Halloween Spectacular November 4: The Stockton Dirt Track (Stockton, CA) - 40th Annual Tribute to Gary Patterson w/SCCT November 5: Championship Awards Celebration at Brookside Country Club (Stockton, CA)
dirt track racing

advertisement

advertisement
Willamette Speedway

Dirt Track Videos
dirt track racing

advertisement

advertisement
Willamette Speedway

Nearby Dirt Tracks
Distance information is direct (as the crow flies) - driving distance will differ due to road routes and things like lakes or mountains.
dirt track racing

advertisement

advertisement
Willamette Speedway

Dirt Track Racing Organizations
dirt track racing

advertisement

advertisement