Moberly Motorsports Park
Race Track

in Moberly, Missouri, USA
Moberly Motorsports Park Dirt Track Logo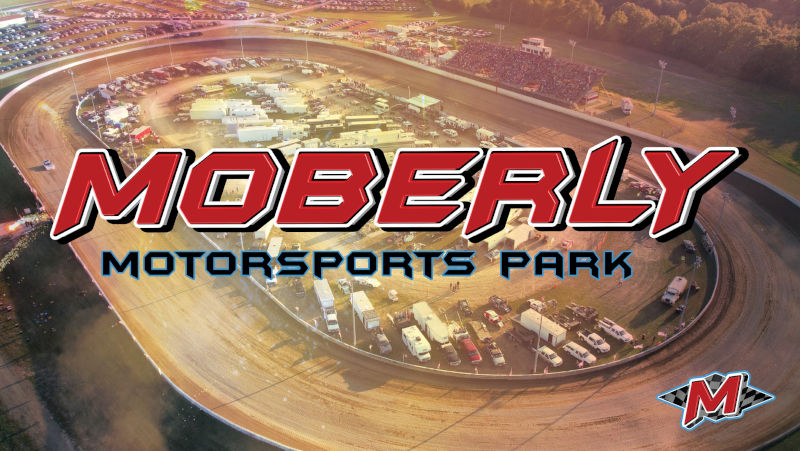 Moberly Motorsports Park races B Modifieds, 4 Cylinders, Late Models, A Modified, Stock Cars, and Sprint Invaders. Formerly known as Randolph County Raceway.
Location
Contacts
Schedule
News
Nearby Dirt Tracks
Dirt Track Organizations
dirt track racing

advertisement

advertisement
Moberly Motorsports Park

Dirt Track Location
4081 US 24




Moberly

,

Missouri

,

65270

USA

lat:

39.462174

, lng:

-92.365086

Surface: 1/2 mile high-banked clay oval
dirt track racing

advertisement

advertisement
Moberly Motorsports Park

Dirt Track Contacts
dirt track racing

advertisement

advertisement
Moberly Motorsports Park

Dirt Track Racing Schedule

Schedules are known to change without warning, double check with race track before heading out.

Fri, May 12

Sat, May 13

Fri, Jun 2

Sat, Jun 3

Tue, Jun 20

Sun, Sep 3
dirt track racing

advertisement

advertisement
Moberly Motorsports Park

Dirt Track News
KAYDEN CLATT SEEKING HISTORY IN PURSUIT OF MLRA ROOKIE CROWN

Wheatland, Missouri (March 13, 2023) - With the 2023 Lucas Oil MLRA season now less than three weeks away, the list of committed drivers seeking to become the next top talent as the Sunoco Race Fuel Rookie of the Year continues to grow. This time around it's Kayden Clatt throwing his hat into the ring. At just 14 years of age the driver from Ashland, Missouri will try to also become the youngest driver in series history to ever capture the coveted rookie title. A passion for racing that started at 4 ½ years of age for a kid on a go-kart, has progressed into a full-blown opportunity to live out that dream, as he now prepares for his fourth season of late model racing. Clatt has been winning each step of the way, notching multiple Maxxis Karting championships in 2018 and 2019, to scoring his first ever Super Late Model win and track championship in 2021 at the Moberly Motorsports Park (formerly Randolph County Raceway). "We kind of want to do this when I'm young so it will be a bigger accomplishment if it does happen," noted Clatt of his run for Sunoco Rookie honors. "Getting the Rookie of the Year championship at 14 rather than at 16 or 17 I think would be a lot more impressive. We thought that most of our races with MLRA went pretty decent last year, so this year we are hoping to advance and hold strong to what we are doing." A small family operation got the then 11 year old started in Crate Late Models in 2020, and it didn't take long for people to take notice. "We started off slow, gained a little bit and were fortunate to get some help from some people that believed in me," noted Clatt of his current car owner Reid Millard. "Reid came along when we were at a Hell Tour show and he ended up putting us in a Super Late Model and we've went from there, focusing on getting experience and time on the track." "Just knowing that someone believes in you so much like Reid does and is willing to support you in a sport and a position that you never imagined you would be in when you were younger is really nice. He has been a good role model too, teaching me the marketing side and how to present myself in public--he has really helped a lot in the way that my career has changed." In 2022, Clatt and team entered a total of eleven MLRA events and notched his fist career top ten with the series in June at the Off-Road Speedway in Norfolk, NE. It's that experience that he hopes will help propel him entering his first full season on tour. "These last two years it's been all about trying to get seat time and figuring out how the cars drive and understanding set-ups. We, both me and my crew chief (Grandpa Jerry Clatt), both have some things to learn yet and we both know that. I think it certainly helped us last year with trying to figure out different track types and being on smaller and bigger tracks and knowing what we need to be looking into car wise with the set up before we ever get to the track. Learning the different kind of tracks and things like that really helps with knowing what to do before you ever get to the track." The 8th grade student at Southern Boone Middle School will be juggling school and racing for the first couple of months of the season, something that he has already become accustomed to. "They allow me to do online school when I'm on the road, taking a Chrome Book and everything I need for however long I'm going to be gone. Normally when we do Friday Saturday shows I'll try and do a little bit Friday morning, and a little Saturday morning, and then I like to finish it on Sunday evening which has seemed to work pretty well." With a new 2023 Black Diamond Chassis being prepared for the upcoming campaign Clatt hopes to follow in the footsteps of a couple of other notable Rookie of the Year winners who have been key to his growth in the sport. "Jeremiah (Hurst-2020 Sunoco Rookie of the Year and MLRA Champion), was one guy that really helped us in the beginning. Right now, Garrett (Alberson—2022 Lucas Oil Late Model Dirt Series Rookie of the Year), really helps with my driving and in setup up on the car. It's really nice to have people like these guys who have a lot more experience than we do who are there to help and willing to help. I think that just shows how humble and kind people are around this sport." Kayden Clatt Racing/Millard Family Racing Marketing Partners: Bee Seen Signs, Millard Family Chapels, Toste Construction, Papich Construction, Lucas Oil, Rademan Communications, Cliburn Tank Line Inc., Roberts Motorsports, Performance Bodies, Bemboom Heating & Cooling, Morris Electric, Petroff Towing, VP Fuels, & Acola Coffee Company. Crew Chief: Jerry Clatt For all of the latest news and information fans are encouraged to visit the series website: Explore MLRARACING.COM Fans may also "like" the Lucas Oil MLRA Facebook page or follow us on Twitter: CONTACT: Ernie Leftwich Lucas Oil MLRA Series Director Mobile: (417) 309-3509 Email Ernie Leftwich 2023 Official Lucas Oil MLRA Marketing Partners Arizona Sport Shirts "The Official Merchandise Provider" of Lucas Oil MLRA Cedar Creek Beef Jerky "The Official Beef Jerky" of Lucas Oil MLRA General Tire "The Official Tire" of Lucas Oil MLRA Hoosier Race Tires "The Official Race Tire" of Lucas Oil MLRA Lucas Oil Products "The Official Oil" of Lucas Oil MLRA MAVTV Motorsports Network "The Official Television Network" of Lucas Oil MLRA Rugged Radios "The Official Radio" of Lucas Oil MLRA Sunoco Race Fuels "The Official Fuel" of Lucas Oil MLRA 2023 MLRA Supporters Include: Arizona Sport Shirts, Cedar Creek Beef Jerky, Hoosier Race Tires, Hooker Harness, Lucas Cattle Co., MyRacePass, Sunoco Race Fuels, Whelen, Midwest Sheet Metal, PEM, Protect The Harvest, MSD Performance, Rugged Radios, Dirt Car Lift, Behrents Performance Warehouse, Earnhardt Technologies, Fast Shafts, Fast Track Photos, Fox Shocks, Outerwears, Performance Bodies, Swift Springs, Strange Oval, Xceldyne Lucas Oil MLRA 700 E. Highway 54, P.O. Box 8, Wheatland, MO 65779 +1 (417) 282-5984
dirt track racing

advertisement

advertisement
Moberly Motorsports Park

Nearby Dirt Tracks
Distance information is direct (as the crow flies) - driving distance will differ due to road routes and things like lakes or mountains.
dirt track racing

advertisement

advertisement
Moberly Motorsports Park

Dirt Track Racing Organizations
dirt track racing

advertisement

advertisement