IRA - Interstate Racing Association Outlaw Sprints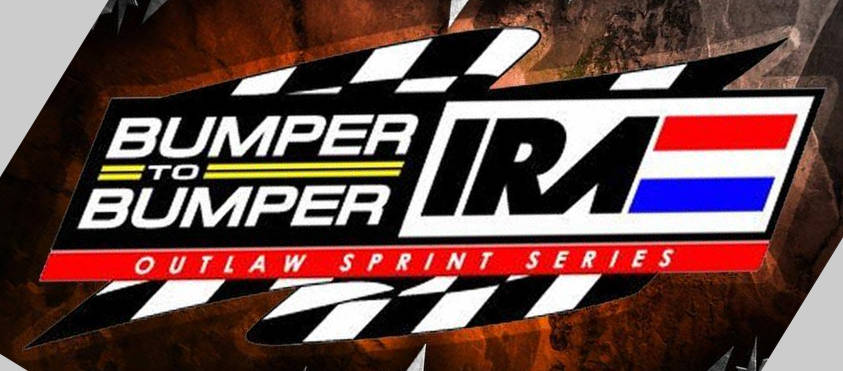 The Interstate Racing Association commonly known as the Bumper to Bumper IRA Outlaw Sprint Series is a regional winged/410 Outlaw Sprint Car sanctioning body. IRA was founded in the mid 1960's and competed in their early years as winged Super Modifieds. The term Interstate Racing Association came from the fact that the racers hailed from southeast Wisconsin and Northern Illinois and the fact the tracks they competed at, such as Wilmot and the Waukegan Speedway were just over the border from each other off the I-94 corridor.

The group eventually converted to Sprint Cars in the mid 70's. Wilmot Speedway was the home of Saturday night Sprint Car racing for many a year. Car counts were huge! In 1993, the IRA chose to hit the road with more frequency and competed at several other venues and ventured far. IRA became a full blown regional traveling series. The IRA is one of the country's premier regional 410 sanctions.
Contacts
Schedule
News
Videos
Dirt Tracks
dirt track racing

advertisement

advertisement
dirt track racing

advertisement

advertisement
IRA - Interstate Racing Association Outlaw Sprints

Dirt Track Racing Schedule

Schedules are known to change without warning, double check with race track before heading out.

Fri, Jun 2

Sat, Jun 3

Sat, Jun 10

Sun, Jun 11

Sat, Jun 24

Sat, Jul 1

Thu, Jul 13

Fri, Jul 14

Sat, Jul 15

Fri, Jul 21

Fri, Jul 28

Sat, Jul 29

Sat, Aug 19

Sun, Aug 20

Sat, Aug 26

Fri, Sep 1

Sat, Sep 2

Fri, Sep 8

Sat, Sep 9

Sat, Sep 16

Sat, Sep 30
dirt track racing

advertisement

advertisement
IRA - Interstate Racing Association Outlaw Sprints

Dirt Track Racing News
Plymouth top 10 highlights Austin Hartmann's IRA doubleheader weekend

(PEDAL DOWN PROMOTIONS) May 24, 2023 - The first of six scheduled "home games" for the Plymouth, Wis.-based Austin Hartmann - 87A Hartmann Racing team at The Plymouth Dirt Track in Plymouth, Wis. proved to provide one of the team's best overall efforts of the young 2023 Bumper to Bumper Interstate Racing Association 410 Sprint Car Series season Saturday, May 20. Hartmann opened the program by qualifying ninth in the 31-car field with a lap of 12.140 seconds around the third-mile clay oval. After rolling off second in the third eight-lap IRA heat race, Hartmann earned a third place finish to earn a spot in the IRA dash field used set the top 10 spots in the A main. The fourth-year Sprint Car driver started fourth and placed fifth in the first four-lap IRA dash to earn the ninth starting spot in the 30-lap Frank Filskov Memorial IRA A main. The Plymouth, Wis. competitor settled into ninth place in the early going of the main event before a spin involving Josh Schneiderman brought out a caution flag on lap 5. Following the restart, Blake Nimee worked the high groove to briefly move around the low riding Hartmann on lap 8. However, Hartmann battled back to regain ninth in the running order on lap 12. Following the second caution flag of the race on lap 13 for a two-car incident involving Tyler Tischendorf and Ion Stear, Hartmann worked his way past Mike Reinke in turn three to assume eighth on lap 14. The 2020 Plymouth Dirt Track Racing and Midwest Sprint Car Association Rookie of the Year Award recipient held on over the final 16 laps to finish eighth and earn his second top-10 A-main showing of the 2023 season. "Plymouth went very well, I'd say," Hartmann said. "The car felt fast and comfortable all night long no matter what we did to it. We also got good notes for our next visit." One night later at Angell Park Speedway, Hartmann began the evening by qualifying 10th in the 27-car IRA field with a lap of 12.260 seconds. After starting on the pole of the first eight-lap IRA heat race, Hartmann placed second to gain a spot in the 30-lap headliner. Hartmann rolled off 11th in the 30-lap IRA headliner and dueled for the 12th and 13th positions through the majority of the race on a fast and undulating track surface until the second of two caution flags flew on lap 25 for the slowing car of Jake Blackhurst. Over the final five laps, Hartmann fell back several spots with an ill-handling car on the way to a 17th place finish in a race won by Bill Balog. "We had a good night at Angell Park as well," Hartmann said. "The car felt pretty planted all night, considering the track conditions. The wing slider seal gave out on the last caution of the feature, which allowed the wing to slide forward and back on its own. That made the car essentially unable to be driven properly on that tricky track surface." Austin Hartmann and the 87A Hartman Racing team are now gearing up for another doubleheader weekend with the Bumper to Bumper Interstate Racing Association 410 Sprint Car Series starting with the team's third appearance of the season at Wilmot Raceway in Wilmot, Wis. on Saturday, May 27 with the Midwest Sprint Car Association 360 Sprint Cars and Badger Midgets also on the all-open wheel card. Pit gates open at 3 p.m. with spectator gates opening at 5 p.m. and hot laps at 6 p.m. On Sunday, May 28, the team will travel north for an IRA 410 Sprint Car Series event at 141 Speedway in Francis Creek, Wis., which will also include IRA Lightning Sprints, Sport Compacts and Legends. Pit and spectator gates open at 3 p.m. with racing starting at 6 p.m. "I'm very excited for this upcoming weekend," Hartmann said. "I am enjoying the doubleheader weekends. I would like to say 'thank you' to everyone who makes this car go around the track. It's not just me behind the wheel. I couldn't do it without our partners on the car, as well as my family and crew." All 2023 Bumper to Bumper Interstate Racing Association 410 Sprint Car Series events will be streamed live on FloRacing. The 87A Hartmann Racing team recently debuted a new website, which can be accessed at https://www.team87a.com. Additional information on the 87A Hartmann Racing team can be found by visiting the team's Facebook page - https://www.facebook.com/87Ahartmannracing. The sponsorship partners for the 2023 87A Hartmann Racing team include Kristine Hartmann of Pleasant View Realty, Shufflebotham Tree Service, Competition Specialists, Schmidt's Landscaping, Feldmann Sales & Service, Holler n Hills, Steinpreis Trucking, KSI Supply Inc., Quasius Construction, SwitchGear Brewing LLC, TheD8Dispensary, AF Inc., Hopf Farms, RC Custom Design, Hepfner Racing Products, Berryman Racing Shocks and Maxim Chassis. The 2023 87A Hartmann Racing team consists of Hunter Annis, Eric Bergschultz, Parker Annis, Karlee Hartmann, Andrew Shufflebotham and Kristine Hartmann. 87A Hartmann Racing Sponsor Showcase - Feldmann Sales & Service The Austin Hartmann - 87A Hartmann Racing team is pleased to welcome back Feldmann Sales & Service back as a sponsorship partner for the 2023 season. Located at 1014 South Wisconsin Drive in Howards Grove, Wis., Feldmann Sales & Service has been in business since 1948. As a small, family-owned business, Feldmann Sales and Service's mission to offer the latest in parts and products at the best prices with unparalleled service, along with a full line of Polaris, Kubota, Echo Stihl, Ariens, Simplicity, Toro and Land Pride equipment, including ATVs, Ranger RZRs, tractors and chainsaws. In addition to featuring a full showroom of equipment for all seasons, Feldmann Sales & Service's team of certified technicians offers ATV maintenance, lawn equipment service and trailer service. To contact Feldmann Sales & Service, call 920-565-3939, email sales@feldmannsales.com or visit http://www.feldmannsales.com/. Pedal Down Promotions is a full-service public relations and media services company devoted to helping its clients effectively communicate with targeted audiences through press releases, newsletters, profile and feature articles, website and social media content development, printed media, editing and layout, graphic design and book publishing services. For more information on Pedal Down Promotions, email pedaldownpromotions@gmail.com, visit www.pedaldownpromo.com or call 920-323-7970. Austin Hartmann - 87A Hartmann Racing 2023 Upcoming Schedule Saturday, May 27 - Wilmot Raceway, Wilmot, Wis. (IRA) Sunday, May 28 - 141 Speedway, Francis Creek, Wis. (IRA) Friday, June 2 - Dodge County Fairgrounds Speedway, Beaver Dam, Wis. (IRA-All Stars) Saturday, June 3 - Plymouth Dirt Track, Plymouth, Wis. (IRA-All Stars) Austin Hartmann 87A Hartmann Racing 2023 Season By The Numbers Total Events - 8 IRA Events - 6 World of Outlaws Events - 0 All Star Events - 2 A Main Victories - 0 B Main Victories - 0 Top Five A Main Finishes - 1 Top 10 A Main Finishes - 2 Top 15 A Main Finishes - 2 Top 20 A Main Finishes - 4 Heat Race Victories - 0 Dash Appearances - 2 Dash Victories - 0 Fast Qualifier Awards - 0

Arenz rebounds with top-10 IRA showing at Angell Park, after Plymouth disappointment

(PEDAL DOWN PROMOTIONS) May 24, 2023 - Just 24 hours after enduring a difficult homecoming at The Plymouth Dirt Track in Plymouth, Wis. on Saturday, May 20, Bumper to Bumper Interstate Racing Association 410 Sprint Car Series rookie contender Travis Arenz of Sheboygan Falls, Wis. turned the tide by tallying a solid top-10 finish in A-main competition at Angell Park Speedway in Sun Prairie, Wis. on Sunday, May 21. The IRA doubleheader weekend kicked off with Arenz's highly anticipated return to The Plymouth Dirt Track where he has enjoyed the majority of his success in his career, including racking up a total of three track championships in the Outlaw Compact 4-cylinder and 360 Sprint Car divisions. However, the evening proved to be forgettable as Arenz's encountered a flurry of mechanical and on-track issues in both 410 and 360 Sprint Car competition. The night got off to a sour note when motor issues arose on Arenz's machine in IRA 410 Sprint Car Series hot laps. After missing IRA qualifying and taking out the team's backup car for the remainder of the program, Arenz lined up at the rear of the third 10-car IRA heat race. However, on the opening lap Arenz had to take evasive action to avoid Tyler Brabant, who got sideways exiting turn two, which sent Arenz's car flipping down the backstretch. Arenz returned to start 12th in the 10-lap IRA B main, needing to finish in the top six to earn an A-main transfer spot. The 16th year driver was able to move up four spots to finish eighth, which brought his participation in the IRA 410 Sprint car portion of the program to an early conclusion. Arenz's luck wasn't much better in the Plymouth Dirt Track Racing - Midwest Sprint Car Association 360 Sprint Car division. After qualifying second overall in MSA-PDTR 360 Sprint Car group qualifying with a lap of 13.343 seconds, Arenz missed the call to lineup for the second 10-lap heat race. As a result, Arenz started the 10-car 10-lap PDTR-MSA 360 Sprint Car B main from the rear of the field. However, Arenz wasted little time weaving his way through the field using primarily the high groove of the third-mile clay oval en route to the B main victory and a starting spot in the 25-lap A-main field. After starting 16th in the PDTR-MSA main event, Arenz had moved up to 12th by lap 4. However, one lap later the two-time PDTR-MSA 360 Sprint Car champion clipped an infield tire and spun in turn two, which brought his evening to a premature close with a 22nd place finish. "In hot laps, I ended up hurting the motor, so I had to bring down the spare car," Arenz said. "In the heat race, unfortunately, we ended up making contact with a car that was spinning out and I didn't have anywhere to go. It wasn't too violent of a roll, so we got the car back down to the pit stall, made sure nothing was wrong with the frame and got to work. It needed a lot of bolt-on parts." "The crew got the car back to racing condition, while I tried to go run my heat race with the 360," he said. "Unfortunately, I did miss my heat race, which put us in the B-mains with both the 410 and 360. We missed the feature with the 410 by three positions but we did pick up the B main win with the 360 from the 10th starting position." On Sunday, May 21, the Travis Arenz Motorsports team traveled southwest to Angell Park Speedway, which is another track where Arenz has racked up success over the years in 360 Sprint Car competition. Arenz opened the night by qualifying 11th in the 27-car field with a lap of 12.322 seconds. After starting on the pole of the second eight-lap IRA heat race, Arenz placed second to secure a spot in the 30-lap main event. After rolling off 12th in the IRA main event, Arenz hovered around the top 10 through the first 25 laps of the race before the second caution flag of the event appeared on lap 25 for the slowing machine of Jake Blackhurst. Following the restart, Arenz strung together several good laps to sweep past Russel Borland and fellow IRA rookie Brenham Crouch to vault his way into seventh in the closing laps. Arenz held on to earn a seventh place showing in a race won by Bill Balog. "We packed up right away after Plymouth and headed to the shop as a team to discuss what we wanted to do for Sunday," Arenz said. "We ended up swapping motors from my spare car to the main car for Angell Park. The trailer needed to be put back together as things were everywhere from Saturday trying to get back out on the track. It was time consuming, but we made it work." "The car was decent in qualifying and in the heat race with how choppy the track was," he said. "I would say the feature went alright. We moved forward and, most importantly, the car rolled into the trailer afterwards. I am down a 410 motor at the moment and a car. Fingers crossed that the motor can get fixed quickly." Travis Arenz and the Travis Arenz Motorsports team are gearing up for another doubleheader weekend with the Bumper to Bumper Interstate Racing Association 410 Sprint Car Series starting with the team's third appearance of the season at Wilmot Raceway in Wilmot, Wis. on Saturday, May 27 with the Midwest Sprint Car Association 360 Sprint Cars and Badger Midgets also on the all-open wheel card. Pit gates open at 3 p.m. with spectator gates opening at 5 p.m. and hot laps at 6 p.m. On Sunday, May 28, the team will travel north for an IRA 410 Sprint Car Series event at 141 Speedway in Francis Creek, Wis., which will also include IRA Lightning Sprints, Sport Compacts and Legends. Pit and spectator gates open at 3 p.m. with racing starting at 6 p.m. All 2023 Bumper to Bumper Interstate Racing Association 410 Sprint Car Series events will be streamed live on FloRacing. The 2023 Travis Arenz Motorsports sponsorship partners include Professional Plating Inc., Service One Transportation, Inc, Don and Lynn Kiel, Oostburg Concrete, Lakeshore Family Funeral Homes, Schoen's Wildlife Removal, Premier Insurance Solutions-Craig Ladwig, Pallet Works, DW Fence, Little Bears Tree Service LLC, Lake Auto Glass and Service, Myhre Construction LLC, Roth's Auto Restoration, Hair Fellers Barbershop, Fastenal of Plymouth, Jensen Sales and Humphrey's Turner Hall Bar & Grill, Carbliss Hand Crafted Cocktails, Amy Bruechert Reality, Cornwell Tools-Paul Epping, Advanced Engine Concepts, Inc., Duehring's Tax Service, Everhope Show Cattle, HRP Wings and Behling Racing Equipment. The 2023 Travis Arenz Motorsports team consists of pit crew members Greg Piedot, Jerrod Gamb, Emily Stadler, Cameron Fritz, Alex Wesenburg, Tony Fox and Trevor Hittman. Additional information on the Travis Arenz Motorsports team can be found by visiting the team's Facebook and Twitter pages. Travis Arenz Motorsports Sponsor Showcase - Schoen's Wildlife Removal Travis Arenz Motorsports is pleased to have Schoen's Wildlife Removal on board as a sponsorship partner for the team's rookie season of competition with the Bumper to Bumper Interstate Racing Association 410 Sprint Car Series. Schoen's Wildlife Removal has sponsored Travis since the beginning of his racing career in the Outlaw Compact 4-Cylinder division at The Plymouth Dirt Track in Plymouth, Wis. in 2008. Located in Sheboygan, Wis., Schoen's Wildlife Removal goes beyond pest control to employ proven humane animal control methods based on decades of experience, traveling to any area of Wisconsin to handle all wildlife. Schoen's is state certified to manage all protected species, including bats, as well as controlling bees, wasps, ants, spiders, snakes, mice and many more. Schoen's, which has been in business since 2001, services farms, factories, businesses, schools, houses, apartments, cottages, rentals and just about any other structure that has a wildlife problem. New homeowners are invited to contact Schoen's Wildlife Removal for a quick and affordable pests inspection. For more information or to schedule an appointment, contact Schoen's Wildlife Removal by phone at 920-331-0583 or 920-912-4205, by email at hotrod00119@yahoo.com or by visiting www.schoenswildliferemoval.com. Pedal Down Promotions is a full-service public relations and media services company devoted to helping its clients effectively communicate with targeted audiences through press releases, newsletters, profile and feature articles, website and social media content development, printed media, editing and layout, graphic design and book publishing services. For more information on Pedal Down Promotions, email pedaldownpromotions@gmail.com, visit www.pedaldownpromo.com or call 920-323-7970. Travis Arenz Motorsports Upcoming 2023 Schedule Saturday, May 27 - Wilmot Raceway, Wilmot, Wis. (IRA) Sunday, May 28 - 141 Speedway, Francis Creek, Wis. (IRA) Friday, June 2 - Dodge County Fairgrounds Speedway, Beaver Dam, Wis. (IRA-All Stars) Saturday, June 3 - Plymouth Dirt Track, Plymouth, Wis. (IRA-All Stars) Travis Arenz Motorsports 410 Sprint Car 2023 Season By The Numbers Total Events -7 IRA Events - 6 All Star Events - 1 A Main Victories - 0 Top Five A Main Finishes - 2 Top 10 A Main Finishes - 3 Top 15 A Main Finishes - 4 Top 20 A Main Finishes - 4 Heat Race Victories - 1 B Main Victories - 0 Dash Appearances - 0 Dash Victories - 0 Fast Qualifier Awards - 0 Travis Arenz Motorsports 360 Sprint Car 2023 Season By The Numbers Total MSA-PDTR Events - 1 A Main Victories - 0 Top Five A Main Finishes - 0 Top 10 A Main Finishes - 0 Heat Race Victories - 0 B Main Victories - 1 Fast Qualifier Awards - 0

Goldesberry,Fassbender & Sparks claim open wheel night A-main victories

In the 30-lap Frank Filskov Memorial Bumper to Bumper Interstate Racing Association 410 Sprint Car Series A main, 2022 IRA champion Jordan Goldesberry of Springfield, Ill. emerged from a thrilling late-race duel with 10-time IRA champ Bill Balog of Hartland and two-time IRA champion Jake Blackhurst of Hanna City, Ill. to claim his second IRA A-main victory of the 2023 season.

Courtney Dominates All Star Feature at Wilmot

Two-time and defending All Star champion, Tyler Courtney, made it look easy on Saturday night at Wilmot Raceway in Wilmot, Wisconsin, cruising home by a margin of six seconds to score round one of the Tezos All Star Circuit of Champions presented by Mobil 1 and IRA Outlaw Sprint Series challenge.

Austin Hartmann storms to career-best A-main showing at Wilmot Raceway

(PEDAL DOWN PROMOTIONS) May 10, 2023 - After sitting idle for three weeks, Austin Hartmann and the 87A Hartmann Racing team returned to action in impressive fashion by racking up a career-best fifth place A-main finish in a non-sanctioned 410 Winged Sprint Car event at Wilmot Raceway in Wilmot, Wis. on Saturday, May 6. With 24 410 Winged Sprint Cars checked in for the program, Hartmann turned in the fifth-fastest overall lap in his group qualifying session with a time of 13.248 seconds around the third-mile clay oval. The fourth-year driver then lined up third in the second eight-lap heat race before turning in a fifth place finish to secure the fourth starting spot in the 25-lap A main. Hartmann drove a smooth and consistent race, while enduring a couple of restarts due to on-track incidents. As the laps wound down, Hartmann executed a nifty move to slip past Kurt Davis utilizing the low groove and nail down a career-best fifth place finish in a race won by Bill Balog. "We qualified fifth overall in the group qualifying session," Hartmann said. "The heat race went alright. We were close on set up, but not great. The feature went pretty good. The car faded too quickly, but, all in all, we'll take a fifth place finish. We are excited for the fun weekend ahead of us with the All Stars for two nights and also with the IRA on the second night. "I'm super proud of my pit crew guys, Hunter Annis and Eric Bergschultz," he said. "They've put in the work and used their minds to make this car faster every time it hits the track." The Plymouth, Wis. driver is set to compete in a pair of $6,000-to-win events with the Tezos All Star Circuit of Champions 410 Sprint Car Series this weekend starting with an All Stars Series event at Jacksonville Speedway in Jacksonville, Ill. on Friday, May 12. Pit gates open at 4 p.m. with spectator gates opening at 5:30 p.m., followed by hot laps at 6:15 p.m. and racing at 7 p.m. The 87A Hartmann Racing team will then compete in a Tezos All Star Circuit of Champions - Bumper to Bumper Interstate Racing Association co-sanctioned event at Wilmot Raceway in Wilmot, Wis. on Saturday, May 13. Pit gates open at 2 p.m. with spectator gates opening at 4 p.m., followed by hot laps at 6 p.m. Both events will be streamed live on FloRacing. All 2023 Bumper to Bumper Interstate Racing Association 410 Sprint Car Series events will be streamed live on FloRacing. The 87A Hartmann Racing team recently debuted a new website, which can be accessed at https://www.team87a.com. Additional information on the 87A Hartmann Racing team can be found by visiting the team's Facebook page - https://www.facebook.com/87Ahartmannracing. The sponsorship partners for the 2023 87A Hartmann Racing team include Kristine Hartmann of Pleasant View Realty, Shufflebotham Tree Service, Competition Specialists, Schmidt's Landscaping, Feldmann Sales & Service, Holler n Hills, Steinpreis Trucking, KSI Supply Inc., Quasius Construction, SwitchGear Brewing LLC, TheD8Dispensary, AF Inc., Hopf Farms, RC Custom Design, Hepfner Racing Products, Berryman Racing Shocks and Maxim Chassis. The 2023 87A Hartmann Racing team consists of Hunter Annis, Eric Bergschultz, Karlee Hartmann, Andrew Shufflebotham and Kristine Hartmann. 87A Hartmann Racing Sponsor Showcase - Competition Specialists Headquartered at 1342 Earl St. in Menasha, Wis., Competition Specialists has been a high-performance race engine builder, specializing in oval track engines, since 1982. Under the leadership of Steve Blom and Jason Johnson, Competition Specialists aims to carry on the tradition of reliable and powerful racing engines. With Steve's 40-plus years of engine-building knowledge and Jason's family tradition of building race-winning engines with his Hall of Fame great grandpa and grandpa, this newly formed partnership forged in 2022 brings proven winning power. Competition Specialists builds a wide range of race engines for Sprint Cars, Dirt Late Models, Asphalt Late Models, Modifieds, Street Stocks, Sportsman and road course cars. In addition, the team of engine builders at Competition Specialists can build marine engines (inboard, small block and big block), hot rod engines (Mopar, Ford and Chevrolet) and other V-8 engines by request. Competition Specialists features a full-service machine shop where detail is the highest priority from drop off to ready-for-assembly, including the ability to mill heads, blocks and injections. The machine shop also includes lathes to turn cranks and cams. The top-of-the line equipment showcased throughout the shop can also balance cranks, rods and flywheels, while providing the ability to flow cylinder heads for maximum horsepower. Precision and inspection rank as a top priority for every part that comes through the Competition Specialists machine shop doors. Through a thorough evaluation and examination process, Competition Specialists' technical staff can find cracks invisible to the eye by closely magnifying every inch of every part. Contact Competition Specialists by calling 920-725-9384, emailing sales@competitionspecialists.com, visiting www.competitionspecialists.com or checking out the Competition Specialists Facebook page. Pedal Down Promotions is a full-service public relations and media services company devoted to helping its clients effectively communicate with targeted audiences through press releases, newsletters, profile and feature articles, website and social media content development, printed media, editing and layout, graphic design and book publishing services. For more information on Pedal Down Promotions, email pedaldownpromotions@gmail.com, visit www.pedaldownpromo.com or call 920-323-7970. Austin Hartmann - 87A Hartmann Racing 2023 Upcoming Schedule Friday, May 12 - Jacksonville Speedway, Jacksonville, Ill. (All Stars) Saturday, May 13 - Wilmot Raceway, Wilmot, Wis. (IRA/All Stars) Saturday, May 20 - Plymouth Dirt Track, Plymouth, Wis. (IRA) Saturday, May 21 - Angell Park Speedway, Sun Prairie, Wis. (IRA) Austin Hartmann 87A Hartmann Racing 2023 Season By The Numbers Total Events - 4 IRA Events - 3 World of Outlaws Events - 0 All Star Events - 0 A Main Victories - 0 B Main Victories - 0 Top Five A Main Finishes - 1 Top 10 A Main Finishes - 1 Top 15 A Main Finishes - 1 Top 20 A Main Finishes - 1 Heat Race Victories - 0 Dash Appearances - 1 Dash Victories - 0 Fast Qualifier Awards - 0

Arenz charges to top-five IRA showing at Beaver Dam Raceway

(PEDAL DOWN PROMOTIONS) April 20, 2023 - While the "R" after his name on the 2023 Bumper to Bumper Interstate Racing Association 410 Sprint Car Series full-time driver roster might indicate otherwise, Travis Arenz looked like anything but a rookie, storming from his 15th starting spot to claim a fifth place showing behind the wheel of the 25T Travis Arenz Motorsports machine in the 30-lap IRA Jim Wipperfurth Memorial A main Saturday, April 15 at Beaver Dam Raceway in Beaver Dam, Wis. After falling short of making the A-main starting lineup during both nights of the 2023 season opening IRA-Midwest Open Wheel Association (MOWA) Morning Sun Farm Implement 410 Clash doubleheader weekend at 34 Raceway in his debut at the West Burlington, Iowa facility on April 7-8, Arenz returned to much more familiar footing for the third IRA event of the 2023 campaign at a track where he has visited victory lane in Midwest Sprint Car Association 360 Sprint Car competition and the results definitely showed. Arenz opened the night by turning in the 17th fastest qualifying time in the 25-car field with a lap of 12.606 seconds around the high-banked third-mile clay oval. After lining up sixth in the second eight-lap IRA heat race, Arenz wasted no time in working the high groove to maneuver around Jereme Schroeder and Austin Hartmann to take over fourth in the running order exiting turn two on the opening lap. The Sheboygan Falls, Wis. driver then held on to the fourth spot the rest of the way. Following an incident involving Tim Haddy and Jereme Schroeder on the initial start, Arenz rolled off from the 15th starting position in the 30-lap IRA main event and used a nifty move on lap four to bolt past both Todd King and Jack Vanderboom. After a caution for William Huck on lap 5, Arenz restarted 11th before passing Mike Reinke for 10th on lap 6 and Josh Schneiderman to seize ninth two laps later. Following another caution for a spin involving Russel Borland on lap 9, the 2021 and 2022 Midwest Sprint Car Association and Plymouth Dirt Track Racing 360 Sprint Car champion restarted eighth and put together three consecutive flawless laps using multiple grooves of the well-manicured racing surface to slip past IRA front runners Scotty Neitzel, Danny Schlafer and Jake Blackhurst and grab fifth on lap 12. Arenz held strong over the final 18 non-stop laps to secure a fifth place showing behind Blake Nimee (fourth), Brenham Crouch (third), Tim Estenson (second) and race winner Jordan Goldesberry. "We didn't get the gearing right, unfortunately, in qualifying," Arenz said. "We even made a change after hot laps, but it definitely still wasn't enough. I have an idea now where we need to be with this motor. "I was somewhat happy with the heat race," he said. "We moved forward and turned a few good laps. Overall, I was happy with the fifth place finish in the A main for how early in the season it is. Once I get more laps in with the 410 car, I'll be aiming for top-three finishes every night." Following an off weekend, Arenz will return to Bumper to Bumper Interstate Racing Association 410 Sprint Car Series action with a doubleheader weekend of competition at two new tracks to the Travis Arenz Motorsports team, starting at Cedar Lake Speedway in New Richmond, Wis. on Saturday, April 29 and concluding on Sunday, April 30 with the IRA's first-ever appearance at Mason City Speedway in Mason City, Iowa. "I go to each new track with the same approach, which is to try to learn it as quickly as possible and watch previous film to see how the track unfolds over a complete night of racing," Arenz said. "That will be my approach to racing at two new tracks for us, Cedar Lake Speedway and Mason City Speedway, during our next weekend of racing with the IRA." Pit gates open at 3 p.m. and spectator gates open at 5 p.m. with hot laps at 5:30 p.m. and racing at 6 p.m. for the Spring Open Wheel Spectacular at Cedar Lake Speedway, which also features Traditional Sprint Cars, Winged Limited Sprint Cars and 600cc Winged Micro Sprints. Pits open at 3 p.m. with spectator gates opening at 4 p.m., hot laps at 5 p.m. and racing scheduled to begin at 5:30 p.m. for the IRA's inaugural event at Mason City Speedway, which also features USRA Stock Cars, USRA B Mods, USRA Hobby Stocks and Outlaw Mini Mods. All 2023 Bumper to Bumper Interstate Racing Association 410 Sprint Car Series events will be streamed live on FloRacing. The 2023 Travis Arenz Motorsports sponsorship partners include Professional Plating Inc., Service One Transportation, Inc, Don and Lynn Kiel, Oostburg Concrete, Lakeshore Family Funeral Homes, Schoen's Wildlife Removal, Premier Insurance Solutions-Craig Ladwig, Pallet Works, DW Fence, Little Bears Tree Service LLC, Lake Auto Glass and Service, Myhre Construction LLC, Roth's Auto Restoration, Hair Fellers Barbershop, Fastenal of Plymouth, Jensen Sales and Humphrey's Turner Hall Bar & Grill, Amy Bruechert Reality, Cornwell Tools-Paul Epping, Advanced Engine Concepts, Inc., Duehring's Tax Service, Everhope Show Cattle, HRP Wings and Behling Racing Equipment. The 2023 Travis Arenz Motorsports team consists of pit crew members Greg Piedot, Jerrod Gamb, Emily Stadler, Cameron Fritz, Alex Wesenburg, Tony Fox and Trevor Hittman. Additional information on the Travis Arenz Motorsports team can be found by visiting the team's Facebook and Twitter pages. Travis Arenz Motorsports Sponsor Showcase - Don and Lynn Kiel Don and Lynn Kiel's first date was attending a race at The Plymouth Dirt Track in Plymouth, Wis. in June 1998 and they have been together ever since, marrying on Feb. 14, 2005. Lynn spent her working career in the banking industry retiring after 39 years in 2017 as an assistant vice-president at a local Manitowoc bank. Lynn's interest in racing started when she attended the races at the 141 Speedway as a child with her dad, Andy Endries. RIP ANDY! Don's interest in racing started when he bought Dean Divine's Modified in the early 1970s. Don's driving experience involved Modifieds and Mini Sprints, as well as 360 Sprint Cars at Manitowoc Expo Speedway in 2011 and 2012. Don spent four years in the United States Air Force, enlisting the night of his graduation party. He was honorably discharged after four years in 1967 as an Airman First Class. Don was a Minuteman Missile electrician serving as team chief his last year and actually got to take part in the test firing of four Minuteman Missiles at Vandenburg Air Force Base in Lompoc, Calif. Don was based at F. E. Warren Air Force Base in Cheyenne, Wyo. for 41 months. Don started flying in Cheyenne at the age of 19, secured his first flying job three days after his honorable discharge from the U.S. Air Force at age 22 and retired at age 60. He retired as Senior Captain on the 300 passenger Airbus A 330-300 flying to London, Paris, Rome, Amsterdam and Frankfurt. He has logged over 30,000 hours of flying time with a lot of stories to tell. For a glimpse of Don's career, Google Don Kiel Wisconsin Aviation Hall of Fame. For a view of his favorite aircraft that he owned for four years, check out the Warbird Takeoff by Googling Beech 18 Takeoff Great Radial Engine Sound. Click on the 32 second video. Don and Lynn continue to fly his 1952 Cessna 170B, both on wheels and skis in the winter. Don loves to say it's pretty cool when your vocation and avocation are one in the same! "We started out sponsoring Travis Arenz by buying him a set of rear tires four years ago and the rest is history," Don Kiel said. "Travis is a very talented racer from the tiniest detail to the actual racing. I love to watch Travis feel the track out and then work his magic. I sponsor Travis as I feel he is one of the best!" Pedal Down Promotions is a full-service public relations and media services company devoted to helping its clients effectively communicate with targeted audiences through press releases, newsletters, profile and feature articles, website and social media content development, printed media, editing and layout, graphic design and book publishing services. For more information on Pedal Down Promotions, email pedaldownpromotions@gmail.com, visit www.pedaldownpromo.com or call 920-323-7970. Travis Arenz Motorsports Upcoming 2023 Schedule Saturday, April 29 - Cedar Lake Speedway, New Richmond, Wis. (IRA) Sunday, April 30 - Mason City Motor Speedway, Mason City, Iowa (IRA) Saturday, May 13 - Wilmot Raceway, Wilmot, Wis. (IRA/All Stars) Travis Arenz Motorsports 410 Sprint Car 2023 Season By The Numbers Total IRA Events - 3 A Main Victories - 0 Top Five A Main Finishes - 1 Top 10 A Main Finishes - 1 Top 15 A Main Finishes - 1 Top 20 A Main Finishes - 1 Heat Race Victories - 0 B Main Victories - 0 Dash Appearances - 0 Dash Victories - 0 Fast Qualifier Awards - 0 Travis Arenz Motorsports 360 Sprint Car 2023 Season By The Numbers Total MSA-PDTR Events - 0 A Main Victories - 0 Top Five A Main Finishes - 0 Top 10 A Main Finishes - 0 Heat Race Victories - 0 B Main Victories - 0 Fast Qualifier Awards - 0

Mechanical misfortune spoils Hartmann's IRA Beaver Dam Raceway effort

(PEDAL DOWN PROMOTIONS) April 19, 2023 - A promising start to the Bumper to Bumper Interstate Racing Association 410 Sprint Car Series Jim Wipperfurth Memorial ended in disappointment for Austin Hartmann and the 87A Hartmann Racing team as a mechanical malfunction brought the evening to an early conclusion prior to the drop of the green flag in the 30-lap main event at Beaver Dam Raceway on Saturday, April 15. Hartmann came out of the gate strong to click off the fifth fastest qualifying lap in the 25-car field with a lap of 12.046 seconds around the high-banked third-mile clay oval. After the fourth-year Sprint Car competitor started third in the second eight-lap IRA heat race, he fell back to fifth on the opening lap as Brenham Crouch and Travis Arenz bolted past. Hartmann then maintained fifth in the running order for the remainder of the eight-lap heat race. Hartmann drew the third starting spot in the second four-lap IRA dash and wound up fifth to claim the 10th starting spot in the 30-lap A-main event. However, Hartmann did not turn another competitive lap for the remainder of the program. Shortly after pushing off for the 30-lap A main, a broken component in the driveline of the 87A Hartmann Racing machine forced Hartmann to leave the track and retire to the pit area for the remainder of the event. He was listed 22nd in the final race rundown. "We made a few changes over the week to the car, and the car felt great in hot laps and in qualifying," Hartmann said. "In the heat race, I got a bad start, but I knew I had to finish in the top five to make the dash, which we did. In the dash, I played around testing the car in different grooves of the track. While firing the car for the A main, the four studs holding the sliding collar over the torque tube ripped out. We don't know the cause of that issue, but it ended our night early." Following an off weekend, Hartmann and the 87A Hartmann Racing team will resume Bumper to Bumper Interstate Racing Association 410 Sprint Car Series action with a doubleheader weekend of competition starting at Cedar Lake Speedway in New Richmond, Wis. on Saturday, April 29 and concluding on Sunday, April 30 at with the IRA's first-ever appearance at Mason City Speedway in Mason City, Iowa. "We will get the car fixed up for the next weekend of racing with the IRA on April 29 and 30," Hartmann said. "I am super excited to get back to Cedar Lake Speedway with the success we had there last year in winning the B main at the Jerry Richert Memorial event. I will watch some film and study Mason City Speedway to get ready for the IRA's first race at that track." Pit gates open at 3 p.m. and spectator gates open at 5 p.m. with hot laps at 5:30 p.m. and racing at 6 p.m. for the Spring Open Wheel Spectacular at Cedar Lake Speedway, which also features Traditional Sprint Cars, Winged Limited Sprint Cars and 600cc Winged Micro Sprints. Pits open at 3 p.m. with spectator gates opening at 4 p.m., hot laps at 5 p.m. and racing scheduled to begin at 5:30 p.m. for the IRA's event at Mason City Speedway, which also features USRA Stock Cars, USRA B Mods, USRA Hobby Stocks and Outlaw Mini Mods. All 2023 Bumper to Bumper Interstate Racing Association 410 Sprint Car Series events will be streamed live on FloRacing. The 87A Hartmann Racing team recently debuted a new website, which can be accessed at https://www.team87a.com. Additional information on the 87A Hartmann Racing team can be found by visiting the team's Facebook page - https://www.facebook.com/87Ahartmannracing. The sponsorship partners for the 2023 87A Hartmann Racing team include Kristine Hartmann of Pleasant View Realty, Shufflebotham Tree Service, Competition Specialists, Schmidt's Landscaping, Feldmann Sales & Service, Holler n Hills, Steinpreis Trucking, KSI Supply Inc., Quasius Construction, SwitchGear Brewing LLC, TheD8Dispensary, AF Inc., Hopf Farms, RC Custom Design, Hepfner Racing Products, Berryman Racing Shocks and Maxim Chassis. The 2023 87A Hartmann Racing team consists of Hunter Annis, Eric Bergschultz, Karlee Hartmann, Andrew Shufflebotham and Kristine Hartmann. 87A Hartmann Racing Sponsor Showcase - Shufflebotham Tree Service Located in Sheboygan Falls, Wisconsin, Shufflebotham Tree Service specializes in tree trimming, tree removal, brush chipping, lot clearing, stump grinding and snow removal with fully insured service and free estimates. Contact Andrew Shufflebotham and his highly skilled team, which has accumulated over 20 years of experience in the field, for your next tree trimming, removal or clean-up project by calling 920-627-3849 or checking out the Shufflebotham Tree Service Facebook page. Pedal Down Promotions is a full-service public relations and media services company devoted to helping its clients effectively communicate with targeted audiences through press releases, newsletters, profile and feature articles, website and social media content development, printed media, editing and layout, graphic design and book publishing services. For more information on Pedal Down Promotions, email pedaldownpromotions@gmail.com, visit www.pedaldownpromo.com or call 920-323-7970. Austin Hartmann - 87A Hartmann Racing 2023 Upcoming Schedule Saturday, April 29 - Cedar Lake Speedway, New Richmond, Wis. (IRA) Sunday, April 30 - Mason City Motor Speedway, Mason City, Iowa (IRA) Saturday, May 13, Wilmot Raceway, Wis. (IRA/All Stars) Austin Hartmann 87A Hartmann Racing 2023 Season By The Numbers Total Events - 3 IRA Events - 3 World of Outlaws Events - 0 All Star Events - 0 A Main Victories - 0 B Main Victories - 0 Top Five A Main Finishes - 0 Top 10 A Main Finishes - 0 Top 15 A Main Finishes - 0 Top 20 A Main Finishes - 0 Heat Race Victories - 0 Dash Appearances - 1 Dash Victories - 0 Fast Qualifier Awards - 0

Austin Hartmann fires up 2023 IRA season in Iowa, eyes return to Beaver Dam Raceway

(PEDAL DOWN PROMOTIONS) April 12, 2023 - With their rookie season of 410 Sprint Car competition now firmly planted in the rearview mirror, Austin Hartmann and the members of the 87A Hartmann Racing team flipped the page to their second full campaign on the Bumper to Bumper Interstate Racing Association 410 Sprint Car Series tour, during the IRA-Midwest Open Wheel Association (MOWA) Morning Sun Farm Implement 410 Clash doubleheader race weekend Friday, April 7 and Saturday, April 8 at 34 Raceway in West Burlington, Iowa. In his 34 Raceway debut on Friday, April 7, Hartmann signed in among a strong field of 48 competitors on hand to kick off the 2023 IRA campaign. Hartmann opened the night by turning in the 14th fastest qualifying lap in split field qualifying group B in 13.828 seconds. After starting seventh in the eight-lap fourth heat race, Hartmann came home 10th. The 2020 Midwest Sprint Car Association Rookie of the Year Award winner then placed ninth after starting 10th in the 10-lap second B main. With another 48-car field on hand on Saturday, April 8, Hartmann qualified 10th in split field qualifying group B with a lap of 13.020 seconds. After starting fifth in the fourth eight lap IRA-MOWA heat race, the Plymouth, Wis. resident came home seventh. Hartmann then capped the 2023 IRA season opening doubleheader weekend event by placing sixth after starting third in the second 10 lap IRA-MOWA B main. "At first glance, 34 Raceway reminded me of Beaver Dam Raceway," Hartmann said. "The two tracks have very similar straightaways. The team and I set a goal for the weekend to get this new chassis figured out for different track conditions, as well as learn the new Hoosier tires. We took good notes on the car and track conditions that will hopefully help us coming up in the future when we make our return to 34 Raceway later in the season." Hartmann is now set to return to the site of his best career A-main finish this Saturday, April 15 as the Bumper to Bumper Interstate Racing Association 410 Sprint Car Series makes its lone scheduled appearance of the 2023 season at Beaver Dam Raceway in Beaver Dam, Wis. Street Stocks and Legends also on the card for the annual Jim Wipperfurth Memorial event. In the IRA's last appearance at Beaver Dam Raceway on Sept. 17, 2022, Hartmann posted a career-best sixth place showing in the 30-lap Scott Semmelmann Memorial A main event. Pit gates open at 4 p.m. with spectator gates opening at 4:30 p.m. and racing scheduled to begin at 6:30 p.m. "Our team is super excited to get back to Beaver Dam Raceway and use what we learned this weekend at 34 Raceway to help us there," Hartmann said. "The new tires threw us for a loop, but we are excited to get more nights on them." All 2023 Bumper to Bumper Interstate Racing Association 410 Sprint Car Series events will be streamed live on FloRacing. The 87A Hartmann Racing team recently debuted a new website, which can be accessed at https://www.team87a.com. Additional information on the 87A Hartmann Racing team can be found by visiting the team's Facebook page - https://www.facebook.com/87Ahartmannracing. The sponsorship partners for the 2023 87A Hartmann Racing team include Kristine Hartmann of Pleasant View Realty, Shufflebotham Tree Service, Competition Specialists, Schmidt's Landscaping, Feldmann Sales & Service, Holler n Hills, Steinpreis Trucking, KSI Supply Inc., Quasius Construction, SwitchGear Brewing LLC, TheD8Dispensary, AF Inc., RC Custom Design, Hepfner Racing Products, Berryman Racing Shocks and Maxim Chassis. The 2023 87A Hartmann Racing team consists of Hunter Annis, Eric Bergschultz, Karlee Hartmann, Andrew Shufflebotham and Kristine Hartmann. 87A Hartmann Racing Sponsor Showcase - SwitchGear Brewing Co. The 87A Hartmann Racing team is pleased to welcome SwitchGear Brewing Co., located at 44D Gottfried St. in Elkhart Lake, Wis., on board as a sponsorship partner for the 2023 racing season. Since opening in May 2017 in the historic feed mill in downtown Elkhart Lake, SwitchGear Brewing Co. has become well known throughout Sheboygan County and beyond for creating flavors for all beer connoisseurs using high quality ingredients. SwitchGear Brewing Co.'s interior pays tribute to the history of Elkhart Lake, while relaying a modern, industrial vibe. To contact SwitchGear Brewing Co., call 920-781-5120, email info@switchgearbrewing.com or visit https://www.switchgearbrewing.com. Pedal Down Promotions is a full-service public relations and media services company devoted to helping its clients effectively communicate with targeted audiences through press releases, newsletters, profile and feature articles, website and social media content development, printed media, editing and layout, graphic design and book publishing services. For more information on Pedal Down Promotions, email pedaldownpromotions@gmail.com, visit www.pedaldownpromo.com or call 920-323-7970. Austin Hartmann - 87A Hartmann Racing 2023 Upcoming Schedule Saturday, April 15 - Beaver Dam Raceway, Beaver Dam, Wis. (IRA) Saturday, April 29 - Cedar Lake Speedway, New Richmond, Wis. (IRA) Sunday, April 30 - Mason City Motor Speedway, Mason City, Iowa (IRA) Austin Hartmann 87A Hartmann Racing 2023 Season By The Numbers Total Events - 2 IRA Events - 2 World of Outlaws Events - 0 All Star Events - 0 A Main Victories - 0 B Main Victories - 0 Top Five A Main Finishes - 0 Top 10 A Main Finishes - 0 Top 15 A Main Finishes - 0 Top 20 A Main Finishes - 0 Heat Race Victories - 0 Dash Appearances - 0 Dash Victories - 0 Fast Qualifier Awards - 0

Travis Arenz Motorsports throttles up rookie IRA campaign at 34 Raceway

(PEDAL DOWN PROMOTIONS) April 11, 2023 - Facing off against a stellar field loaded with an impressive collection of the Midwest's top 410 Sprint Car competitors, Travis Arenz and the members of the Travis Arenz Motorsports team launched their rookie season with the Bumper to Bumper Interstate Racing Association 410 Sprint Car Series during the IRA-Midwest Open Wheel Association (MOWA) Morning Sun Farm Implement 410 Clash Friday, April 7 and Saturday, April 8 at 34 Raceway in West Burlington, Iowa. With 48 drivers signed in to fire off the 2023 IRA campaign, Arenz qualified 15th in split field qualifying group A with a lap of 13.823 seconds around the three-eighths mile semi-banked clay oval. In the first eight-lap IRA-MOWA heat, Arenz lined up eighth and passed Kris Spitz on the opening lap to take seventh. Five laps later, Tyler Drueke powered past to drop the 2021 and 2022 Midwest Sprint Car Association 360 Sprint Car champion to eighth in the running order. A caution flag was displayed on lap seven when Austin McCarl stalled in turn one. Arenz restarted seventh and held the position through a green-white-checkered flag finish. Arenz then lined up fourth in the first 10-lap IRA-MOWA B main, needing to place second to earn a coveted berth in the 30-lap A main. A good start launched the 2021 and 2022 Plymouth Dirt Track Racing 360 Sprint Car champion past Cameron Martin into third on the opening lap. On lap 4, Arenz used a nifty move to work around Tyler Drueke to gain second. However, Drueke battled back to slip past Arenz on the final lap to steal away the final transfer spot and relegate the Sheboygan Falls, Wis. driver to a third place finish. Arenz returned to IRA-MOWA action to close out the team's 2023 season opening doubleheader weekend event at 34 Raceway against another stout field of 48 cars on Saturday, April 8. A lap of 13.300 seconds placed Arenz 15th in split field qualifying group B. Arenz then placed ninth after starting eighth in the third heat race and closed out the event with a fifth place finish after starting seventh in the second 10-lap B main. "I enjoyed racing at 34 Raceway," Arenz said. "It's a very nice facility and definitely an enjoyable track with two different corners, it seemed. It kind of reminded me of Manitowoc with the longer straights and tighter corners. "Our goals for the weekend were to make the show and get laps," he said. "I got some bad habits from the 360 car that I need to work on. I was comfortable in the car for it being the first time I was in it. The car just needs some tuning and work." Arenz will return to much more familiar territory this Saturday, April 15 as the Bumper to Bumper Interstate Racing Association 410 Sprint Car Series makes its lone scheduled appearance of the 2023 season at Beaver Dam Raceway in Beaver Dam, Wis. Street Stocks and Legends also on the card for the annual Jim Wipperfurth Memorial event. Pits open at 4 p.m. with spectator gates opening at 4:30 p.m. and racing scheduled to begin at 6:30 p.m. "My approach going into this Saturday's race at Beaver Dam Raceway is the same as it is every week, which is to go out and perform to the level I know I can," Arenz said. "At the same time, I also know I need to continue to learn and get better." All 2023 Bumper to Bumper Interstate Racing Association 410 Sprint Car Series events will be streamed live on FloRacing. The 2023 Travis Arenz Motorsports sponsorship partners include Professional Plating Inc., Service One Transportation, Inc, Don and Lynn Kiel, Oostburg Concrete, Lakeshore Family Funeral Homes, Schoen's Wildlife Removal, Premier Insurance Solutions-Craig Ladwig, Pallet Works, DW Fence, Little Bears Tree Service LLC, Lake Auto Glass and Service, Myhre Construction LLC, Roth's Auto Restoration, Hair Fellers Barbershop, Fastenal of Plymouth, Jensen Sales and Humphrey's Turner Hall Bar & Grill, Amy Bruechert Reality, Cornwell Tools-Paul Epping, Advanced Engine Concepts, Inc., Duehring's Tax Service, Everhope Show Cattle, HRP Wings and Behling Racing Equipment. The 2023 Travis Arenz Motorsports team consists of pit crew members Greg Piedot, Jerrod Gamb, Emily Stadler, Cameron Fritz, Alex Wesenburg, Tony Fox and Trevor Hittman. Additional information on the Travis Arenz Motorsports team can be found by visiting the team's Facebook and Twitter pages. Travis Arenz Motorsports Sponsor Showcase - Professional Plating Located at 705 Northway Drive in Brillion, Wis., Professional Plating Inc. was established in 1979 when Bob and Pat Endries, founders of Endries International, were looking for a dependable source of plating for the fasteners supplied to their customers. In May 1979, the zinc plating operation began with the barrel line being Professional Plating's sole production area. In June 1983, the company expanded its zinc plating capabilities with the purchase of a Cyclemaster rack line. Over the past 44 years, Professional Plating has grown into one of the largest electroplaters in the Midwest, in addition to a large powder coating operation and an electrocoat facility. Today, Professional Plating offers a wide range of services, including coating and plating, quality systems, trucking, shipping and packaging. In addition, Professional Plating has been a five-time Products Finishing Top Shops Benchmarking Survey Award winner for both plating and powder coating, taking home the prestigious award each year that it has been offered. For more information on the top-of-the-line services Professional Plating has to offer, call 920-756-2153, email larry.dietz@proplating.com or visit https://www.proplating.com. Pedal Down Promotions is a full-service public relations and media services company devoted to helping its clients effectively communicate with targeted audiences through press releases, newsletters, profile and feature articles, website and social media content development, printed media, editing and layout, graphic design and book publishing services. For more information on Pedal Down Promotions, email pedaldownpromotions@gmail.com, visit www.pedaldownpromo.com or call 920-323-7970. Travis Arenz Motorsports Upcoming 2023 Schedule Saturday, April 15 - Beaver Dam Raceway, Beaver Dam, Wis. (IRA) Saturday, April 29 - Cedar Lake Speedway, New Richmond, Wis. (IRA) Sunday, April 30 - Mason City Motor Speedway, Mason City, Iowa (IRA) Travis Arenz Motorsports 410 Sprint Car 2023 Season By The Numbers Total IRA Events - 2 A Main Victories - 0 Top Five A Main Finishes - 0 Top 10 A Main Finishes - 0 Top 15 A Main Finishes - 0 Top 20 A Main Finishes - 0 Heat Race Victories - 0 B Main Victories - 0 Dash Appearances - 0 Dash Victories - 0 Fast Qualifier Awards - 0 Travis Arenz Motorsports 360 Sprint Car 2023 Season By The Numbers Total MSA-PDTR Events - 0 A Main Victories - 0 Top Five A Main Finishes - 0 Top 10 A Main Finishes - 0 Heat Race Victories - 0 B Main Victories - 0 Fast Qualifier Awards - 0

Brownstown Speedway season opener set for tonight

A stout field of dirt late models drivers will be on hand to honor one of the legends in Brownstown Speedway history, Ira Bastin, who passed away on Jan. 18 at the age of 82. The race will mark the ...

Ten All Stars to battle for Series championship; Points begin with Attica Raceway Park's Spring Nationals

BROWNSBURG, Ind. (April 5, 2023) - The Tezos All Star Circuit of Champions presented by Mobil 1 will commence championship points competition during the coming weekend, joining the Buckeye State's finest in the two-day Core & Main Spring Nationals at Attica Raceway Park in Attica, Ohio, on Friday and Saturday, April 7-8. Simultaneously opening Attica's 2023 schedule, the weekend pair will award $6,000 each with a guaranteed $550 to each A-Main starter. A staple on the All Star campaign trail, Attica Raceway Park - the home of "Ohio's Finest Racing" - will host "America's Series" on three more occasions in 2023 including a one night stay during Ohio Sprint Speedweek on June 9, followed by back-to-back nights of elbows-up action over Labor Day weekend. Dubbed the Attica Ambush, the Labor Day weekend double will award $6,000 and $12,000, respectively. Although postponed a weekend due to Mother Nature, the 2022 Core & Main Spring Nationals was swept by "Sunshine" Tyler Courtney. The eventual Series champion secured a $12,000 payday for his combined effort, holding off Ohio veteran, Greg Wilson, on night one before withstanding pressure from Series rival and championship contender, Zeb Wise, on night two. Drivers and teams have until Attica's driver's meeting on Friday, April 7, to fully commit to the All Star Circuit of Champions; however, ten teams have been confirmed and will battle for the Series championship in 2023. Included amongst the roster are Tyler Courtney of Clauson Marshall Racing, Hunter Schuerenberg of Vermeer Motorsports, Zeb Wise of Rudeen Racing, Chris Windom of Lane Racing, Parker Price-Miller of McCandless Motorsports, Conner Morrell of Marc Dailey Racing, JJ Hickle of Seeling Motorsports, Scotty Thiel of Premier Motorsports, Tim Shaffer of Bryan Grove Racing, and Zeth Sabo of Jay Kiser Racing. Attica's Spring Nationals doubleheader will ignite an action-packed points agenda for "America's Series." Of the 45 events remaining on the 2023 schedule, 21 will award $10,000-to-win or more with five writing checks for over $22,000. The season's premier programs include Portsmouth Raceway Park's annual Dean Knittel Memorial ($22,554), Lernerville Speedway's Silver Cup ($25,000), the annual Rayce Rudeen Foundation Race ($26,000), Port Royal Speedway's Bob Weikert Memorial ($29,000), and Port Royal Speedway's 55th annual Tuscarora 50 ($55,000). 2023 All Star Circuit of Champions Roster [Drivers listed as they finished in 2022 All Star driver standings, followed by new Series commits in alphabetical order] Tyler Courtney | Clauson Marshall Racing | 7BC Two-time and defending Series champion, Tyler Courtney, is back to try again, returning to the seat of the ever-familiar Clauson Marshall Racing No. 7BC for what he hopes to be a third title run in as many tries. Although not accumulating championship points, the Indianapolis, Indiana, native is already a two-time winner in All Star action in 2023, sweeping the two-day stay at East Bay Raceway Park in early February. "Sunshine" secured seven point-worthy victories in his most recent championship campaign, locking down the title by 122 markers over Buch Motorsports' Justin Peck. Hunter Schuerenberg | Vermeer Motorsports | 55 "Hunter Percent" Hunter Schuerenberg, piloting the Vermeer Motorsports No. 55, is not only back to battle again in 2023, but the Sikeston, Missouri, native is working to acquire a first-ever Series title. Schuerenberg was a four-time winner during All Star competition in 2022, capping his most recent title chase third in the Series' driver standings. Diverse, as well as talented, all four of Schuerenberg's recent victories were accomplished in four different states, his most recent at Stateline Speedway in Busti, New York. Zeb Wise | Rudeen Racing | 26 Angola, Indiana's Zeb Wise, a young veteran with the All Star Circuit of Champions, will return to Series competition in 2023 aboard Rudeen Racing's famous No. 26. Wise was a two-time All Star winner during his 2022 campaign and acquired each in the Buckeye State, the first at Attica Raceway Park on June 3 and the second in Fremont Speedway's second Ohio Sprint Speedweek date on June 12. The Hoosier capped his most recent All Star season fifth in the driver title standings. Chris Windom | Lane Racing | 4 Chris Windom, joining forces with Lane Racing for his 2023 campaign, will work to pick up right where he left off last season and not only contend for victories with "America's Series," but simultaneously throw his hat in the ring for an All Star championship. The Canton, Illinois, native found the top-ten on 15 occasions in 2022, qualifying for 45 point-earning features in the process. "The Bear" earned enough stats to find the seventh position in the season-ending driver championship. Parker Price-Miller | McCandless Motorsports | 29 The "Law Firm" Parker Price-Miller is back in 2023, also aboard a new opportunity that is McCandless Motorsports. Faced with a short season in 2022 due to injury, the Kokomo, Indiana, native still managed to wrangle in a pair of victories for Sam McGhee Motorsports with the first at Fremont Speedway during Ohio Sprint Speedweek and the second at Ransomville Speedway in Ransomville, New York. Prior to his injury, Price-Miller was on pace to be a title contender, notching 21 top-tens in 32 point-earning A-main starts. Conner Morrell | Marc Dailey Racing | 28 New to the All Star campaign trail in 2023, Bradenton, Florida's Conner Morrell will hit the road to contend for victories, working to pad an already impressive open wheel resume that includes a recent FAST Series triumph at Lernerville Speedway in Sarver, Pennsylvania. Morrell will ace the Marc Dailey Racing No. 28 in his All Star rookie season. JJ Hickle | Seeling Motorsports | 97 The 2022 Knoxville Raceway 410 Sprint Car Rookie of the Year is now a full-time All Star, as Quilcene, Washington's JJ Hickle will hit the road full-time aboard Ohio's famous Seeling Motorsports No. 97. Hickle may be new to the All Star game, but his experience may prove otherwise, as the Washington transplant already owns a Midwest Open Wheel Association (MOWA) victory at Spoon River Speedway in Canton, Illinois - a facility the All Stars will visit in 2023. Scotty Thiel | Premier Motorsports | 70 The "Big Wheel" Scotty Thiel, now in charge of Pete Grove's Premier Motorsports No. 70, will join the All Star Circuit of Champions on a full-time basis for the first time in 2023. Although not committed to one particular series, the Sheboygan, Wisconsin, native was a five-time sprint car winner in 2022, four of which during IRA Outlaw Sprint Series competition. In addition, Thiel earned a breakout performance against the World of Outlaws Sprint Car Series in his home state of Wisconsin, finishing a career-best sixth in Cedar Lake Speedway's Independence Day Spectacular on July 2. Tim Shaffer | Bryan Grove Racing | 45 A name that is certainly synonymous with All Star Circuit of Champions competition, the "Steel City Outlaw" Tim Shaffer will return to full-time competition in 2023 aboard Bryan Grove's No. 45 - a number honoring the late Trevor Baker. Shaffer, a four-time All Star champion during his illustrious career, is also a former Knoxville Nationals champion, as well as a three-time Ohio Sprint Speedweek champion, acquiring his most recent in 2017. Zeth Sabo | Jay Kiser Racing | 23 Fremont, Ohio's Zeth Sabo will join Thiel, Hickle, and Morrell in the 2023 All Star Circuit of Champions rookie chase and will pilot the Jay Kiser Racing No. 23 along the way. Although new to the travel scene, Sabo's experience runs deep, especially in the high-talent pool of northwest Ohio. Sabo owns a recent victory at "The Track That Action Built" - Fremont Speedway in Fremont, Ohio. About Tezos: Tezos is smart money, redefining what it means to hold and exchange value in a digitally connected world. A self-upgradable and energy-efficient Proof of Stake blockchain with a proven track record, Tezos seamlessly adopts tomorrow's innovations without network disruptions today. For more information, please visit www.tezos.com. About Mobil 1: The world's leading synthetic motor oil brand, Mobil 1™ features anti-wear technology that provides performance beyond our conventional motor oils. This technology allows Mobil 1 to meet or exceed the toughest standards of car builders and to provide exceptional protection against engine wear, under normal or even some of the most extreme conditions. Mobil 1 flows quickly in extreme temperatures to protect critical engine parts and is designed to maximize engine performance and help extend engine life. For more information, visit mobiloil.com, on Twitter @Mobil1 and, on Facebook, www.facebook.com/mobil1. Mobil, Mobil 1 and Mobil 1 Racing are registered trademarks of Exxon Mobil Corporation or one of its subsidiaries. About FloSports: Founded in 2006, FloSports is a subscription video streaming service dedicated to sports, offering live and on-demand access to hundreds of thousands of competition events across 25+ vertical sport categories in the US and abroad. FloSports' vision is to give underserved sports the love they deserve. With a growing library of more than 300,000 hours of premium content including news, expert commentary, films, documentaries and more, FloSports has established itself as an innovator and leader in sports streaming. Finally, your sport has a home. For more information, please visit: flosports.tv. About the All Star Circuit of Champions: All Star Enterprises, LLC, wholly owned by Tony Stewart, d/b/a the All Star Circuit of Champions, is a winged sprint car series. The All Star Circuit of Champions Sprint Car Series is one of the oldest traveling 410 sprint car organizations and is a staple of grassroots, open-wheel racing. Formed in 1970 by Bud Miller, the series has largely been considered the first 'outlaw' Sprint Car organization of the modern era. Motorsports entrepreneur Tony Stewart agreed to terms with Guy Webb to become the sole owner of the original winged sprint car tour in January of 2015. # # # Contact: Tyler Altmeyer Tezos All Star Circuit of Champions presented by Mobil 1 (724) 954-4915, pr@tonystewart.com Tezos All Star Circuit of Champions presented by Mobil 1 468 Southpoint Circle Suite 800 Brownsburg, IN 46112

Bloomington Speedway set for 100th year of racing

Supermodified/Sprint car champs included Sheldon Kinser ... April 8: Brownstown Speedway–Inaugural Ira Bastin Memorial for the Northern Allstars Late Model Dirt Series, plus pro late models, super ...

Austin Hartmann-87A Hartmann Racing to fire up second full IRA tour at 34 Raceway

(PEDAL DOWN PROMOTIONS) March 22, 2023 - After turning in a 10th place showing in their rookie season of Winged 410 Sprint Car action with the Bumper to Bumper Interstate Racing Association Sprint Car Series in 2022, Austin Hartmann and the members of the 87A Hartmann Racing team are ready to embark on another full season of competition against the Upper Midwest's top 410 Sprint Car drivers and teams during the upcoming 2023 IRA campaign. Hartmann's five-and-a-half-month 2022 campaign racing wheel to wheel with many of the nation's top 410 Sprint Car drivers at 13 different tracks in three states saw the Plymouth, Wis native enter 26 events, including 24 IRA races. During his first year behind the wheel of a 410 Sprint Car in 2022, the 2020 Midwest Sprint Car Association and Plymouth Dirt Track Racing 360 Sprint Car rookie of the year earned one top-10, eight top-15 and 17 top-20 A-main showings in 22 A-main appearances on the way to a 10th place finish in the 2022 IRA point standings. In addition, Hartmann posted one heat race victory, one B-main triumph, one fast qualifier award and six dash appearances during his initial IRA campaign. The highlights of Hartmann's 2022 season included qualifying for his first career NOS Energy Drink World of Outlaws Series A main at Beaver Dam Raceway in Beaver Dam, Wis. on June 18, claiming his first career IRA fast qualifier award at The Plymouth Dirt Track in Plymouth, Wis. on Sept. 3 and turning in a career-best sixth-place IRA A main showing in the Scott Semmelmann Memorial at Beaver Dam Raceway on Sept. 17. The Hartmann 87A Racing team's 2023 schedule features 37 races at 17 different tracks in six states, including 32 IRA events. The 2023 campaign will kick off with an IRA-Midwest Open Wheel Association (MOWA) co-sanctioned doubleheader event at 34 Raceway in West Burlington, Iowa on Friday, April 7 and Saturday, April 8. The 87A Hartmann Racing team also plans to enter three NOS Energy Drink World of Outlaws Sprint Car Series events during the 2023 campaign, including a NOS Energy Drink World of Outlaws Sprint Car Series doubleheader at Beaver Dam Raceway in Beaver Dam, Wis. on Friday, June 16 and Saturday, June 17 and another NOS Energy Drink World of Outlaws event at Wilmot Raceway in Wilmot, Wis. on Saturday, July 8. Also on the team's 2023 racing slate is a Tezos All Star Circuit of Champions Series event at Jacksonville Speedway in Jacksonville, Ill. on Friday, May 12 and a return visit to Jacksonville Speedway with the POWRi 410 Outlaw Sprints League during Illinois Speed Week on Friday, June 23. "I am very excited to get the 2023 season going and running the entire IRA Series schedule again is again our plans this year," Hartmann said. "The team is eager to apply what we learned during our rookie season with the 410 and with the IRA last year and work on improving on our consistency in the main events during the 2023 season." The 87A Hartmann Racing team recently debuted a new website, which can be accessed at https://www.team87a.com. Additional information on the 87A Hartmann Racing team can be found by visiting the team's Facebook page - https://www.facebook.com/87Ahartmannracing. The sponsorship partners for the 2023 87A Hartmann Racing team include Kristine Hartmann of Pleasant View Realty, Shufflebotham Tree Service, Competition Specialists, Schmidt's Landscaping, Feldmann Sales & Service, Holler n Hills, Steinpreis Trucking, KSI Supply Inc., Quasius Construction, SwitchGear Brewing LLC, TheD8Dispensary, AF Inc., RC Custom Design, Hepfner Racing Products, Berryman Racing Shocks and Maxim Chassis. The 2023 87A Hartmann Racing team consists of Hunter Annis, Eric Bergschultz, Karlee Hartmann, Andrew Shufflebotham and Kristine Hartmann. 87A Hartmann Racing Sponsor Showcase - Kristine Hartmann of Pleasant View Realty KRISTINE HARTMANN, REALTOR OF Pleasant View Realty, better known as "Every Race Fans Realtor," has 25-plus years of experience selling real estate throughout Wisconsin. Kristine's passion for the sport of racing connects with her competitive drive and ambition as a Realtor in the community. Contact Kristine Hartmann with all your real estate needs and ask her for the special Racing Rates! You can find her on Facebook @ KRISTINE HARTMANN, REALTOR. Also, she can be found at the 87A trailer at any IRA race and would be happy to chat racing and real estate! For more information, visit https://www.facebook.com/PVRKRISTINE, call/text 920-980-5542 or email kristine@pleasantviewrealty.com. Pedal Down Promotions is a full-service public relations and media services company devoted to helping its clients effectively communicate with targeted audiences through press releases, newsletters, profile and feature articles, website and social media content development, printed media, editing and layout, graphic design and book publishing services. For more information on Pedal Down Promotions, email pedaldownpromotions@gmail.com, visit www.pedaldownpromo.com or call 920-323-7970. Austin Hartmann - 87A Hartman Racing 2023 Schedule Friday, April 7 - 34 Raceway, West Burlington, Iowa (IRA/MOWA) Saturday, April 8 - 34 Raceway, West Burlington, Iowa (IRA/MOWA) Saturday, April 15 - Beaver Dam Raceway, Beaver Dam, Wis. (IRA) Saturday, April 29 - Cedar Lake Speedway, New Richmond, Wis. (IRA) Sunday, April 30 - Mason City Motor Speedway, Mason City, Iowa (IRA) Friday, May 12 - Jacksonville Speedway, Jacksonville, Ill. (All Stars) Saturday, May 13 - Wilmot Raceway, Wilmot, Wis. (IRA/All Stars) Saturday, May 20 - The Plymouth Dirt Track, Plymouth, Wis. (IRA) Sunday, May 21 - Angell Park Speedway, Sun Prairie, Wis. (IRA) Saturday, May 27 - Wilmot Raceway, Wilmot, Wis. (IRA) Sunday, May 28 - 141 Speedway, Francis Creek, Wis. (IRA) Friday, June 2 - Dodge County Fairgrounds, Beaver Dam, Wis. (IRA/All Stars) Saturday, June 3 - The Plymouth Dirt Track, Plymouth, Wis. (IRA/All Stars) Saturday, June 10 - Sycamore Speedway, Maple Park, Ill. (IRA) Sunday, June 11 - Angell Park Speedway, Francis Creek, Wis. (IRA) Friday, June 16 - Beaver Dam Raceway, Beaver Dam, Wis. (World of Outlaws) Saturday, June 17 - Beaver Dam Raceway, Beaver Dam, Wis. (World of Outlaws) Friday, June 23 - Jacksonville Speedway, Jacksonville, Ill. (POWRi) Saturday, June 24 - Fairbury Speedway, Fairbury, Ill. (IRA) Saturday, July 1 - The Plymouth Dirt Track, Plymouth, Wis. (IRA) Saturday, July 8 - Wilmot Raceway (World of Outlaws) Thursday, July 13 - I-94 Speedway, Fergus Falls, Minn. (IRA/NOSA) Friday, July 14 - River Cities Speedway, Grand Forks, North Dakota (IRA/NOSA) Saturday, July 15-River Cities Speedway, Grand Forks,North Dakota (IRA/NOSA) Friday, July 21 - Outagamie Speedway, Seymour, Wis. (IRA) Friday, July 28 - The Plymouth Dirt Track, Plymouth, Wis. (IRA) Saturday, July 29 - Wilmot Raceway, Wilmot, Wis. (IRA) Saturday, Aug. 19 - Wilmot Raceway, Wilmot, Wis. (IRA) Sunday, Aug. 20 - Angell Park Speedway, Sun Prairie, Wis. (IRA) Friday, Aug. 25 - 34 Raceway, West Burlington, Iowa (IRA) Saturday, Aug. 26-Federated Auto Parts I-55 Raceway, Pevely, MO. (IRA/MOWA) Friday, Sept. 1 - Dodge County Speedway, Beaver Dam, Wis. (IRA) Saturday, Sept. 2 - The Plymouth Dirt Track, Plymouth, Wis. (IRA) Friday, Sept. 8 - Gondik Law Speedway, Superior, Wis. (IRA) Saturday, Sept. 9 - Cedar Lake Speedway, New Richmond, Wis. (IRA) Saturday, Sept. 16 - 141 Speedway, Francis Creek, Wis. (IRA) Saturday, Sept. 30 - The Plymouth Dirt Track, Plymouth, Wis. (IRA) Austin Hartmann 87A Hartmann Racing Final 2022 Season By The Numbers Total Events - 26 IRA Events - 24 World of Outlaws Events - 2 A Main Victories - 0 B Main Victories - 1 Top Five A Main Finishes - 0 Top 10 A Main Finishes - 1 Top 15 A Main Finishes - 8 Top 20 A Main Finishes - 17 Heat Race Victories - 1 Dash Appearances - 6 Dash Victories - 0 Fast Qualifier Awards - 1 A Main Appearances - 22 Final Interstate Racing Association Points Finish - 10th

Travis Arenz Motorsports to tackle full 2023 IRA 410 Sprint Car Series slate

(PEDAL DOWN PROMOTIONS) March 8, 2023 - On the heels of back-to-back championship-winning seasons in the 360 Sprint Car ranks, Travis Arenz of Sheboygan Falls, Wis. is gearing up to focus on 410 Sprint Car action with his Travis Arenz Motorsports team intending to hit the road to contend for Bumper to Bumper Interstate Racing Association 410 Sprint Car Series rookie of the year accolades, during the upcoming 2023 season. Arenz heads into his 16th season of racing action and his first full season of 410 Sprint Car competition after nailing down the 2021 and 2022 Midwest Sprint Car Association (MSA) and Plymouth Dirt Track Racing (PDTR) 360 Sprint Car titles. During the 2022 MSA-PDTR 360 Sprint Car season, Arenz racked up eight A-main victories, 17 top-five and 18-top-10 A-main showings, five heat race wins and two fast qualifier awards in 19 official events en route to the MSA and PDTR championships. Arenz also competed in seven 410 Sprint Car events with the Bumper to Bumper Interstate Racing Association Sprint Car Series in 2022, earning one top-five, three top-10 and four top-15 A-main showings, three dash appearances and one dash victory to finish 25th in the final 2022 IRA point standings. The highlight of Arenz's 2022 410 Sprint Car campaign was an IRA career-best second place A-main finish at Wilmot Raceway in Wilmot, Wis. on Saturday, Aug. 27. To date, Arenz has amassed a total of 70 career A-main victories, including 30 MSA/PDTR 360 Sprint Car wins, 20 IMCA Northern Sport Mod/PDTR B Mod A-main triumphs and 20 4-Cylinder Outlaw Compact A-main victories, to go along with six series and track championships, including the 2013 4-Cylinder Outlaw Compact title at The Plymouth Dirt Track in Plymouth, Wis. and the 2016 Northern Sport Mod championship at 141 Speedway in Francis Creek, Wis., as well as two MSA 360 Sprint Car (2021, 2022) and a pair of PDTR 360 Sprint Car (2021, 2022) crowns. Arenz will launch his rookie IRA 410 Sprint Car campaign, which features 32 races at 16 different tracks in six states, with an IRA-Midwest Open Wheel Association (MOWA) co-sanctioned doubleheader event at 34 Raceway in West Burlington, Iowa on Friday, April 7 and Saturday, April 8. "As a team, we are looking forward to the challenge of running a full season with the IRA," Arenz said. "As a racer, I'm excited to try the next level of competition." In addition to a full schedule of 410 Sprint Car action with the Bumper to Bumper IRA Series, Arenz is also planning to enter a handful of Midwest Sprint Car Association and Plymouth Dirt Track Racing 360 Sprint Car events during the 2023 campaign. "Along with the IRA schedule, there will be a mix of 360 races as well, which will mainly be decided as we go through the season," Arenz said. "At this point, there will be three nights at Plymouth where we are planning to have both cars. Overall, I'm looking at doing roughly eight races with the 360." The 2023 Travis Arenz Motorsports sponsorship partners include Professional Plating Inc., Service One Transportation, Inc, Don and Lynn Kiel, Oostburg Concrete, Lakeshore Family Funeral Homes, Schoen's Wildlife Removal, Premier Insurance Solutions-Craig Ladwig, Pallet Works, DW Fence, Little Bears Tree Service LLC, Lake Auto Glass and Service, Myhre Construction LLC, Roth's Auto Restoration, Hair Fellers Barbershop, Fastenal of Plymouth, Jensen Sales and Humphrey's Turner Hall Bar & Grill, Advanced Engine Concepts, Inc., Duehring's Tax Service, Everhope Show Cattle, HRP Wings and Behling Racing Equipment. The 2023 Travis Arenz Motorsports team consists of pit crew members Greg Piedot, Jerrod Gamb, Emily Stadler, Cameron Fritz, Alex Wesenburg, Tony Fox, Curtiss Humphrey and Trevor Hittman. Additional information on the Travis Arenz Motorsports team can be found by visiting the team's Facebook and Twitter pages. Travis Arenz Motorsports Sponsor Showcase - Service One Transportation Located at N5761 County Road M in Plymouth, Wis., Service One Transportation has been a proud supporter of Travis Arenz Motorsports since the team moved into the 360 Sprint Car division in 2018. Service One Transportation opened its doors in 1997 when Dan Flagstad, Sr. decided to venture out on his own, following a distinguished career in transportation sales. Starting with a single driver and truck, Dan grew the business by providing unsurpassed service to the customers and living by the creed of "doing whatever it takes to get the job done for the customer." The customer-first philosophy continues today with current President and Owner Dan Flagstad, Jr., along with his partner, Mike Myszewski, who serves as vice president of operations and logistics. Under Dan's leadership, Service One Transportation has experienced the innovation of a new generation, while retaining the customer and family-first philosophy started by Dan Sr. Today, Service One has grown into a full service logistics and transportation company with a large portfolio of services, including 53-foot dry van, dry bulk with rail car transport, blanket wrap transport and warehousing. Service One can handle all truckload, volume LTL and expedited shipments to 48 states and all Canadian provinces. For a personalized transportation quote, contact Service One Transportation by phone at 1-888-988-3344 or 920-467-4793, email at dispatch@serviceonetrans.com or visithttps://www.serviceonetransportation.com/. Pedal Down Promotions is a full-service public relations and media services company devoted to helping its clients effectively communicate with targeted audiences through press releases, newsletters, profile and feature articles, website and social media content development, printed media, editing and layout, graphic design and book publishing services. For more information on Pedal Down Promotions, email pedaldownpromotions@gmail.com, visit www.pedaldownpromo.com or call 920-323-7970. Travis Arenz Motorsports 2023 Schedule Friday, April 7 - 34 Raceway, West Burlington, Iowa (IRA/MOWA) Saturday, April 8 - 34 Raceway, West Burlington, Iowa (IRA/MOWA) Saturday, April 15 - Beaver Dam Raceway, Beaver Dam, Wis. (IRA) Saturday, April 29 - Cedar Lake Speedway, New Richmond, Wis. (IRA) Sunday, April 30 - Mason City Motor Speedway, Mason City, Iowa (IRA) Saturday, May 13 - Wilmot Raceway, Wilmot, Wis. (IRA/All Stars) Saturday, May 20 - The Plymouth Dirt Track, Plymouth, Wis. (IRA) Sunday, May 21 - Angell Park Speedway, Sun Prairie, Wis. (IRA) Saturday, May 27 - Wilmot Raceway, Wilmot, Wis. (IRA) Sunday, May 28 - 141 Speedway, Francis Creek, Wis. (IRA) Friday, June 2 - Dodge County Fairgrounds, Beaver Dam, Wis. (IRA/All Stars) Saturday, June 3 - The Plymouth Dirt Track, Plymouth, Wis. (IRA/All Stars) Saturday, June 10 - Sycamore Speedway, Maple Park, Ill. (IRA) Sunday, June 11 - Angell Park Speedway, Francis Creek, Wis. (IRA) Saturday, June 24 - Fairbury Speedway, Fairbury, Ill. (IRA) Saturday, July 1 - The Plymouth Dirt Track, Plymouth, Wis. (IRA) Thursday, July 13 - I-94 Speedway, Fergus Falls, Minn. (IRA/NOSA) Friday, July 14 - River Cities Speedway, Grand Forks, North Dakota (IRA/NOSA) Saturday, July 15-River Cities Speedway, Grand Forks,North Dakota (IRA/NOSA) Friday, July 21 - Outagamie Speedway, Seymour, Wis. (IRA) Friday, July 28 - The Plymouth Dirt Track, Plymouth, Wis. (IRA) Saturday, July 29 - Wilmot Raceway, Wilmot, Wis. (IRA) Saturday, Aug. 19 - Wilmot Raceway, Wilmot, Wis. (IRA) Sunday, Aug. 20 - Angell Park Speedway, Sun Prairie, Wis. (IRA) Friday, Aug. 25 - 34 Raceway, West Burlington, Iowa (IRA) Saturday, Aug. 26-Federated Auto Parts I-55 Raceway, Pevely, MO. (IRA/MOWA) Friday, Sept. 1 - Dodge County Speedway, Beaver Dam, Wis. (IRA) Saturday, Sept. 2 - The Plymouth Dirt Track, Plymouth, Wis. (IRA) Friday, Sept. 8 - Grondik Law Speedway, Superior, Wis. (IRA) Saturday, Sept. 9 - Cedar Lake Speedway, New Richmond, Wis. (IRA) Saturday, Sept. 16 - 141 Speedway, Francis Creek, Wis. (IRA) Saturday, Sept. 30 - The Plymouth Dirt Track, Plymouth, Wis. (IRA) Travis Arenz Motorsports 360 Sprint Car 2022 Season By The Numbers Total MSA-PDTR Events - 19 A Main Victories - 8 Top Five A Main Finishes - 17 Top 10 A Main Finishes - 18 Heat Race Victories - 5 Fast Qualifier Awards - 2 Midwest Sprint Car Association Points Finish - 1st Plymouth Dirt Track Racing 360 Sprint Car Points Finish - 1st Travis Arenz Motorsports 410 Sprint Car 2022 Season By The Numbers Total IRA Events - 7 A Main Victories - 0 Top Five A Main Finishes - 1 Top 10 A Main Finishes - 3 Top 15 A Main Finishes - 4 Heat Race Victories - 0 Dash Appearances - 3 Dash Victories - 1 Interstate Racing Association Points Finish - 25th Travis Arenz Motorsports Career Highlights 2008-2022 Total A Main Victories - 70 4-Cylinder Outlaw Compact A Main Victories - 20 IMCA Northern Sport Mod/B Mod A Main Victories - 20 MSA/PDTR 360 Sprint Car A Main Victories - 30 2013 Plymouth Dirt Track Racing 4-Cylinder Outlaw Compact Champion 2016 141 Speedway Northern Sport Mod Champion 2021 Plymouth Dirt Track Racing 360 Sprint Car Champion 2021 Midwest Sprint Car Association 360 Sprint Car Champion 2022 Plymouth Dirt Track Racing 360 Sprint Car Champion 2022 Midwest Sprint Car Association 360 Sprint Car Champion
dirt track racing

advertisement

advertisement
IRA - Interstate Racing Association Outlaw Sprints

Dirt Track Racing Videos
dirt track racing

advertisement

advertisement
IRA - Interstate Racing Association Outlaw Sprints

Dirt Tracks
dirt track racing

advertisement

advertisement